Rock Your Business English!
The coolest way to sharpen up your team's Business English skills
Developing new corporate communication strategies to write and speak professionally in English
Your team uses English at work and they get by. It's not always easy, and certainly not always fun, but they get the job done. Most of the time.
However, it's not professional enough. They are all great at what they do, but when it comes to doing that all in English, it's a step (or two!) behind. They keep using the same words over and over again and it's boring. And not professional. They are using school English to help them navigate through international business situations and it's not measuring up. They don't reflect the image you want them to have in English, it's always a bit lower and a bit simpler than it should be.
You would love it if your coworkers could speak more professionally and with more 'polished' phrases so that they have a wide variety of English words and phrases to choose from. They understand English quite well, but that library in their head is not getting activated.  Your international network and clients are there to work with you, not to give you feedback about your English, so you're not even sure if you're using the right words and structures anymore, as no one has told you if it's correct or not. No one gives you clear and honest feedback about HOW you are communicating, so you are working in a vacuum and simply hoping for the best.
You think that sometimes your colleagues might be making mistakes (and you're probably making them yourself!) but you're not sure how to correct them, or know other alternatives to say things in a more professional way.  It would be an added bonus if your coworkers could also work better as a team in English and create a better sense of group communication to increase the team spirit and have fun!
How great would it be if your team could walk into a meeting or a negotiation session and be totally prepared, not just about what to say, but how (and WHY!) to say it?
To feel just as confident in English as they do in their own language?
To be less 'rude' and 'direct' when dealing with international colleagues?
To not hesitate when an English phone call or visitor comes in unexpectedly?
To really reflect the status of your company by using professional and formal English communication skills instead of just school English?
Better English means more confidence in the boardroom, at the negotiating table, and networking on an international playing field. In today's high-paced business world, people don't have a lot of time. Every minute and every word counts. Make them matter by choosing well.
About me
I left a safe, well-paid job to follow my dreams and that was to be the first Personal English Coach of the Netherlands, something that no one had heard of in 2001. Now fast forward, and I'm the Personal English coach to celebrities, politicians, CEOs and top managers. I'm the exclusive English coporate trainer for YoungCapital, Macaw, Eurocamp and Mojo Concerts, among others. My lessons are non-traditional and I've developed my own teaching method which is now used in 4 countries. I am just as comfortable coaching in Parliament as I am on the stage at Lowlands (where I taught 10,000 people), and I'm honored to be the Personal English coach to the CEOs of Dopper and YoungCapital. It's wonderful to see teams growing in skills  and confidence in my Rock Your Busines English! programs!
I designed my Rock Your Business English! program to cover all the bases in Business English, but it's Business English with a twist. It's never boring as I always want to have fun while learning. If you enjoy the learning journey, you will remember and apply so much more. I explain every module, but then everyone has to activate it, get feedback and apply the feedback right away. The lessons are fast-paced, and intense, but the groups are kept small so I can give everyone personal feedback.
The Glamour of Grammar: Building a strong foundation
Here we focus on learning, activating, and getting feedback on basic and advanced English grammar structures, and (finally!) eliminating your bad habits in this area. We will use my own books and materials which really make grammar come alive. This will get you motivated to build a strong and solid foundation for both written and spoken English. Discovering the WHY behind the WHAT means the theory will be your new best friend, and after this module you will KNOW that you are speaking and writing correctly, instead of having to doubt yourself all the time. Then we start applying this to your business communication, and I'll show you how changing 1 grammar tense can totally reverse your message, make you unemployed, insult your colleagues (or your clients!) or make you a murderer. 
Creating a Word Wardrobe: Vocabulary Development
Your words shape your world. But do you have enough of them? If you are talking about your services or your products, and you hesitate because you can't find the right word at the right time, or if you're unsure if you are using the right word, guess what happens? People will interpret this as you doubting your product or your services. However, you're just doubting your English. You know your business well. No doubt about it! Let's take that English doubt out of the equation so that you can just focus on business. I will not only show you how to triple your vocabulary, but how to make your English communication sparkle and shine with new expressions, idioms, and vocabulary alternatives.
Rock That Mouth: Sounding more confident and natural
This is where we get down and dirty on your pronunciation, both in a group and (if time/size allows) individually. I have 30 years of experience on accent reduction and I love showing people how they can self-correct easily and quickly! Let's get your team to sound more confident, natural, and accurate in English with my tailor-made worksheets and fun videos! We will also focus on the most difficult words to say in English, Tongue Twisters, and more! The materials are yours to keep so that you can practice on your own at any time.
Write it Right!
I've been helping people shape and share their stories for 30 years, and I've been a Senior TEDx Speaker Coach for a decade. It's a pleasure to help people create a message with impact and see them make an authentic connection with their audience. Whether it be for a pitch, presentation, meeting, or a network event, my Presentation Template will help you prepare with ease, and deliver like a total pro who owns the stage. We also will work on dealing with nerves, storytelling, Q&A, visuals, and body language in this module. I can't wait to show you how to build a bridge to your audience, with ease and confidence!
Perfecting Presentations and Speaking with Impact
I've been helping people shape and share their stories for 30 years, and I've been a Senior TEDx Speaker Coach for a decade. It's a pleasure to help people create a message with impact and see them make an authentic connection with their audience. Whether it be for a pitch, presentation, meeting, or a network event, my Presentation Template will help you prepare with ease, and deliver like a total pro who owns the stage. We also will work on dealing with nerves, storytelling, Q&A, visuals, and body language in this module. I can't wait to show you how to build a bridge to your audience, with ease and confidence!
Style Matters: Formal and informal language
Ok, so you can get the job done in English. But did you do it as well as you could have? Did you come across as a bit too blunt, direct, or aggressive? Does your English really reflect the level of sophistication that you have with your products or services? Is it top notch, just like you pride yourself on hiring the best team and providing the best services? This is where we go from 'functional' to 'professional'- how do you strike the right tone at the right time and sound more subtle, professional and formal when you need to be? How do you express your opinion, give feedback, and present bad news without sounding so direct? In most languages, there is a built in formal and informal way of saying 'you', and the grammar follows suit. But guess what? We don't have that in English, so we express formality in other ways. I'll show you how!
Details
Time:  Full day, half day, or evening sessions, according to your schedule.
Location: Your office or any other location you have arranged.
Group size: We can start with 2 people and go up (way up!) from there.
Intake: Every participant will get a personal intake to determine their level, needs, and training goals.
Online Course: Every participant will receive lifetime access to my 9-module Business English Communication Course
Materials: Every participant receives a free copy of Work It, my 88-page e-book, and tailor-made worksheets. A personal and signed Certificate of Achievement will be given to every participant at the end of the program.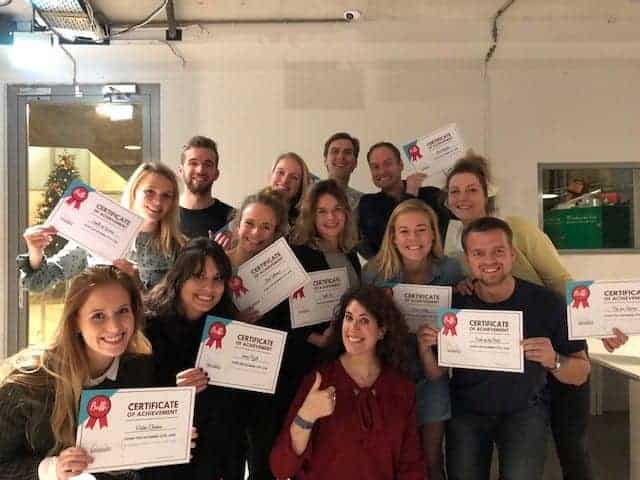 Fee: Corporate training programs are possible for a full day, a half-day or in the evenings. A Rock Your Business English program on site starts at €400 (ex VAT/btw) per person, and Zoom fees are provided upon request. 
YES! My team needs to rock their business English!
What clients say (without a bribe)
"Buffi's in-company Rock Your Business English course was really a mirror for me. No matter how good you think your English is, everyone can really benefit from this course!"
"Thanks for your Rock Your Business Course! Your expertise regarding the mistakes the Dutch often makes was very helpful and is essential. Especially if there is limited time.  Also the presentation to practice our skills was useful.
Your books are easy to read and I know for sure that I will use them to improve my English. Also your tips regarding interesting sites is valuable." 
"It was great! Loved the experience: we've learned a lot about the English language of course, but also about communication and presentations in general. And it brought some very nice extra and special energy into the team." 
The pronunciation of English words, the grammar and the presentation were all super handy modules. It's now easier for me to talk English with an English colleague, I write English mails much faster and when I have a call in English, my pronunciation is also a lot better. I give this Business English training course a solid 9. My English rocks, but so does Buffi!'
Not sure if this is for you?
Do you feel that your team can do better internationally?
Are they struggling with sounding professional in English?
Do they avoid situations where they need English?
Is their communication strategy at the right level to reflect the needs of your company?
Are they just as confident communicating in English as they are in their own language?
Do you feel that there is more international work for your company, but that English is holding you back?
Do your coworkers feel embarrassed when they have to communicate in English?
Do English situations get delegated to the person who is able to do it well?
Do you feel that if your team had better English they would be able to be more successful internationally?
If you answered 'YES' to any of these, then it's time to Rock Your Business English!
This course is for you if:
Your colleagues do not feel comfortable and confident in English
They are not able to communicate internationally with ease
They doubt or hesitate when it comes to professional communication in English
They are not able to spontaneously recognize and use varying degrees of formality and advanced English grammar structures well
This course is not for you if:
Your team feels comfortable and natural using English in professional situations
Your team is able to speak and write professionally in English
Your team uses advanced grammar structures spontaneously, correctly and naturally
YES! We need to rock our business English!
How do I know which course is best for my team?
You will first start by filling in an intake form. Then I'll contact you and discuss your English training goals and needs, and send you a tailor-made proposal accordingly.
Do we all have to have the same level?
I can send you an intake  to send to your team which will help me have a better idea of each person's level.  After evaluating the intake, if someone's level seems too high or too low for the course, I will let you know.
Can I pay in terms?
50% of the course must be paid before the course starts, and the remaining 50% must be paid within 2 weeks of the final course date
How do we get an intake?
I will send it to you by mail.
Are evening sessions possible?
Yes, from 17.00-20.00, with a quick dinner break included.
How do we access the online course?
My assistant will send you the log in information for each participant upon completion of the first payment before the course starts. She will also send everyone a welcome mail describing the online course and how to use it.
How do we get the ebook?
This will be mailed to everyone before the course starts.
What do we need to arrange for Buffi?
A screen, WIFI, speakers, a whiteboard (with pens) and a chair. The client will also arrange lunch or dinner for the participants. This can be anything from a tray with sandwiches to a buffet to ordering pizzas. Buffi is happy to eat anything (veggie) with anyone!
What if people are working from home?
No problem! Safety first! I can do all the modules via Zoom. These sessions can also be recorded and sent to the participants, or stored on your server so that others can access the lessons that might have missed. We can also do a combination of Zoom and on-site. Please fill in your intake so that we can discuss the best option for you!
Do we need laptops?
You can bring one if you like but a notebook (the old-fashioned kind) and a pen will be much better as you will be doing worksheets during the course.
OH YES! We are ready to rock it with Buffi!
"Let's create new corporate communication strategies in English!"