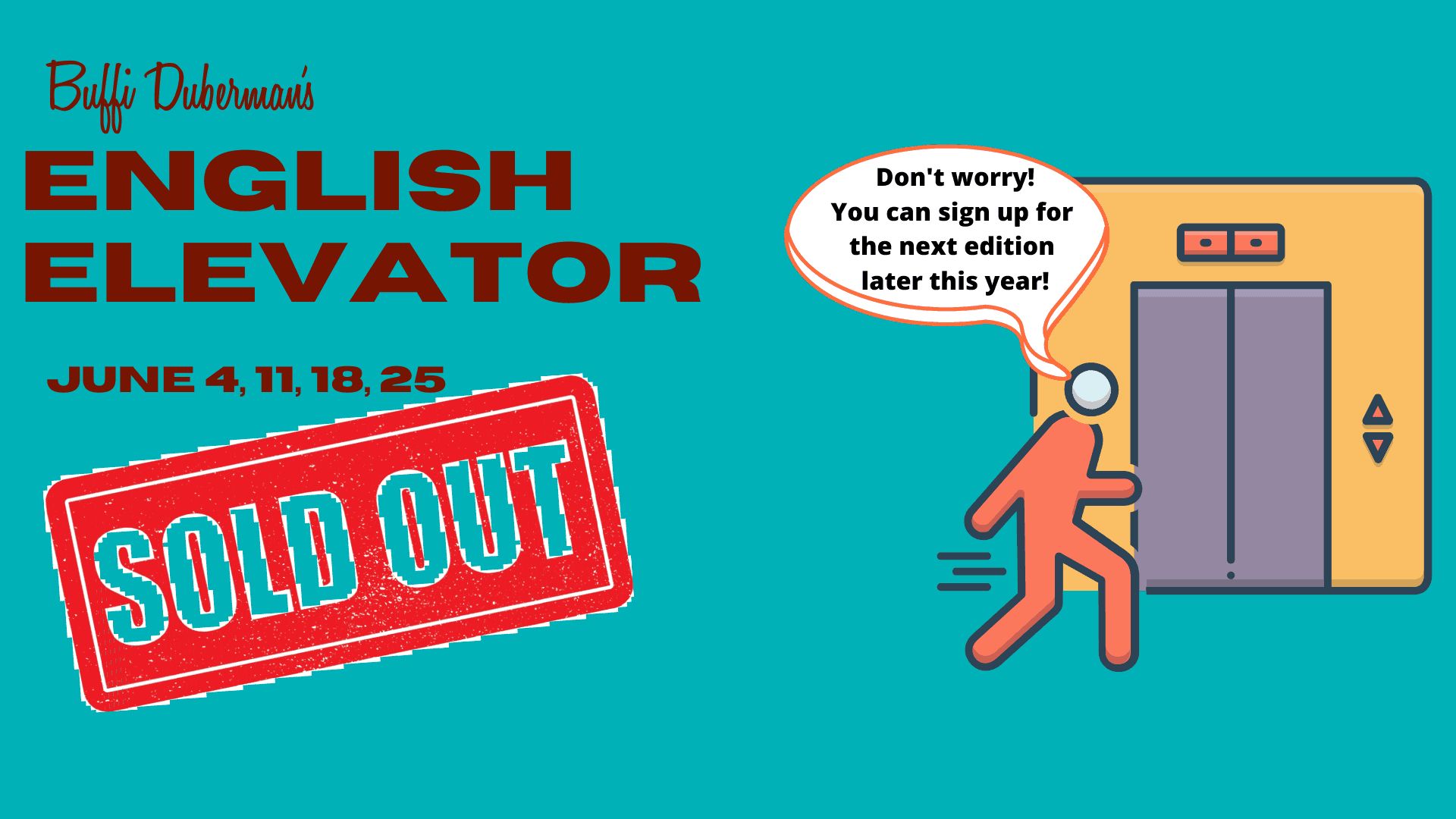 Does this sound familiar?
"I'm not happy about my English."
"I don't have a lot of time to improve my English."
"If my English was better, I'd feel more confident at work."
"Am I using the right grammar form? I have no idea."
"How can I sound more natural in English?"
"I let other people check my emails before I press 'send'. I hate that!"
"I'm using the same words over and over again. But how do I learn and use new ones?"
"I don't feel like me in English."
I hear this all the time
(These quotes are all from my inbox, actually.)
There are so many people out there who struggle with their English communication skills.
They are not absolute beginners, but they are far, far away from where they want to be.
They doubt, hesitate, question themselves….they feel small, less professional, or not as smart as they are in their own language.
I'm here to change that!
That's why I designed a new online course to help with all of this…and more!
Ready to get to the next level?
Welcome to my English Elevator!
My English Elevator is a 4-week program that will take your English communication skills to the next level. It's fun, interactive, intense, and very effective.
I designed it for people who are busy but still want to improve their English in a fresh and fabulous way.
What is the English Elevator program?
I'm so glad you asked!
It's….
8 hours of online training (a 2-hour masterclass every week)
15 workbooks to activate what you are learning (and keep forever)
Lifetime access to my Business English Communication Course
Put me on the waitinglist for next time!
4 Online masterclasses
We will have 4 masterclasses, all done via Zoom. The sessions will be recorded and sent to you afterwards, so no problem if you have to miss a session or have to leave early! Each session will be a 90-minute masterclass, followed by 30 minutes of live Q&A.
The 4 modules will be on:
Module 1
The Glamour of Grammar: Building a strong foundation
2 present tenses
4 past tenses
5 future tenses
Grammar reality check
Activating your passive knowledge
Feedback on your own grammatical use
Module 2
Building a Word Wardrobe: Every word counts!
How to triple your vocabulary
Formal and informal vocabulary alternatives
Expanding your comfort zone
English expressions and phrases
Phrasal verbs
Daily vocabulary activation and application tips
Module 3
Talk Like a Pro: Presentations and pronunciation!
Difficult sounds in English
Challenging words
Tongue Twisters
How to authentically connect with your audience
Creating a clear structure
How to deal with questions
Useful presentation phrases
My famous Presentation Template
Module 4
Write it Right!: Like a boss!
English word order
Adjectives and adverbs
Prepositions
Confusing words
Formal and informal alternatives
Email templates
Starting and ending your mails
Framing your message to sound more native
These sessions will all be recorded and sent to you afterwards, so you won't miss a thing if you have to miss a live session! The live Q&A at the end will also be recorded, so that all the people in the elevator can learn from each other. Sharing is caring!
(These sessions, if sold separately, would sell for €695,00.)
15 Interactive workbooks
These are interactive and designed for you to keep forever. You can use them to practice, apply, and activate what we are learning in each masterclass. They all have answer pages (where applicable) so you can check your own progress! (I don't sell these, but if I did, I could sell the whole shebang for about €195,00.)
1. Present Tenses
2. Past Tenses
3. Future Tenses
4. Conditionals
5. Prepositions
6. Word Order
7. Adjectives & Adverbs
8. Meetings & Negotiations
9. Presentations
10. Asking for & Giving Opinions
11. Phrasal Verbs
12. Pronunciation
13. Professional Emails
14. Formal & Informal Vocabulary
15. English Idioms
…doesn't it feel like your birthday came early this year? 🙂
Put me on the waitinglist for next time!
Business English Communication Course
You get lifetime access to my online learning academy, which means that 9 Business English video masterclasses, worksheets, and answer pages are yours forever! You can log in at any time, and get a shot of Buffilove whenever you need a refresher on presentations, grammar, writing emails, English expressions, formal & informal vocabulary, and so much more! To find out more about the course, click here. (This normally retails for €997,00.)
Investment
This entire program is just €1495 (ex VAT), which saves you hundreds of euros.
How does this sound? Are you ready for the elevator?
What are your online courses like?
This is what other people have said about my online courses.
What level of English is needed for this program? Is it for absolute beginners?
The English Elevator program is not for absolute beginners. I will be explaining everything in English, and all of the materials will be in English without any other support language. However, in the live Q&A, you can always ask questions in Dutch, if needed. This program is designed for people who understand English, and have basic English skills. Anyone from advanced beginner level is welcome!
What will happen if I don't join this program?
You might regret it for the rest of your life. You might not regret it for the rest of your life. It's hard to say.
What will I learn during the course?
You will learn a LOT. Have a look at the live lesson list above (the 4 modules), check out the 15 workbooks listed above, and click here to find out more about the 9 video modules of my Business English Communication Course. This program also covers things like negotiating, giving an elevator pitch, sales and marketing language, and so much more.
How will I feel at the end of the program?
Most likely the same way most of my clients feel – sad that it's come to an end, but full of motivation, confidence, and inspiration to communicate in English! You'll be so much more aware of the why behind the what, you'll be able to correct your own mistakes, and you'll discover new word choices that you were not aware of before. You will also have me with you whenever needed, as I'll be in the workbooks or the Business English communication course, waiting for you to learn again with me at any time!
How much does it cost?
The entire program is €1495,00 (ex VAT)
How many people can fit in the English Elevator?
We will have a minimum of 5 but will only accept a maximum of 10 participants for this exclusive program.
Can I pay in terms?
I'm afraid this is not an option for this particular course.
What if the English Elevator gets stuck?
Don't worry. It won't. We have the best English Elevator technicians who are on duty 23/6. (We give them time off to rollerblade.) The only thing that might get stuck is your brain, because it's learning so many awesome new things!
What if I can't attend a lesson?
That's no problem! The 4 masterclasses will be recorded and sent to you so that you can see everything again whenever you like! The workbooks are yours to keep, and you have lifetime access to my Business English Communication Course.
Take my money! How do I register?
I can't take your money, but I am happy for you to give it to me. You can reserve your spot by clicking here.
Will you be doing this again?
Yes, we will be doing this again if we get enough interest. Make sure you sign up for the waitlist so that you will be the first to know when the next one will be!
How can I prepare for the first lesson?
We will send you all the onboarding information at the end of May, and let you know then!
You're funny. Will you be making jokes during the course?
Is personal coaching part of this program?
Personal coaching is not part of the Elevator English program. You can ask me anything during the live Q&A at the end of every masterclass, however. I have reserved my personal coaching services for private coaching clients, corporate training programs, and members of my Great in 8 program.
I still have a question – how can I reach you?
I'd love to hear it – please send a mail to Karin at assistant@buffiduberman.com and she will pass it on to me! Thanks! However, I am already married, so if your question was a marriage proposal, I'm afraid I'll have to say no at this particular point in time.
Put me on the waitinglist for next time!