What clients say (without a bribe)
Communication Nation Members: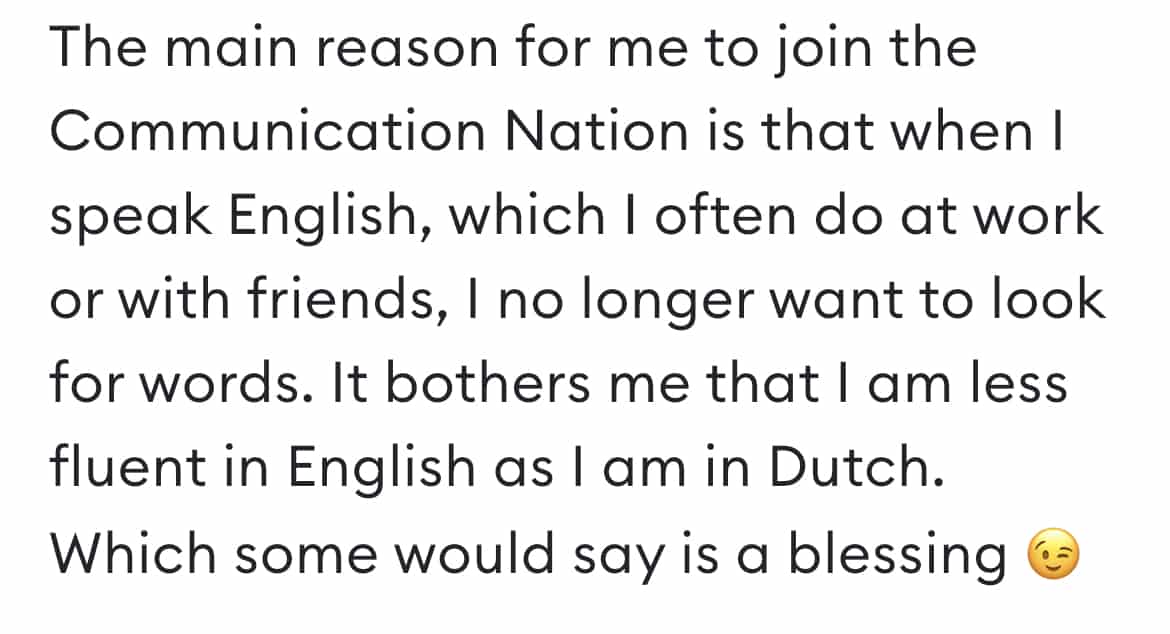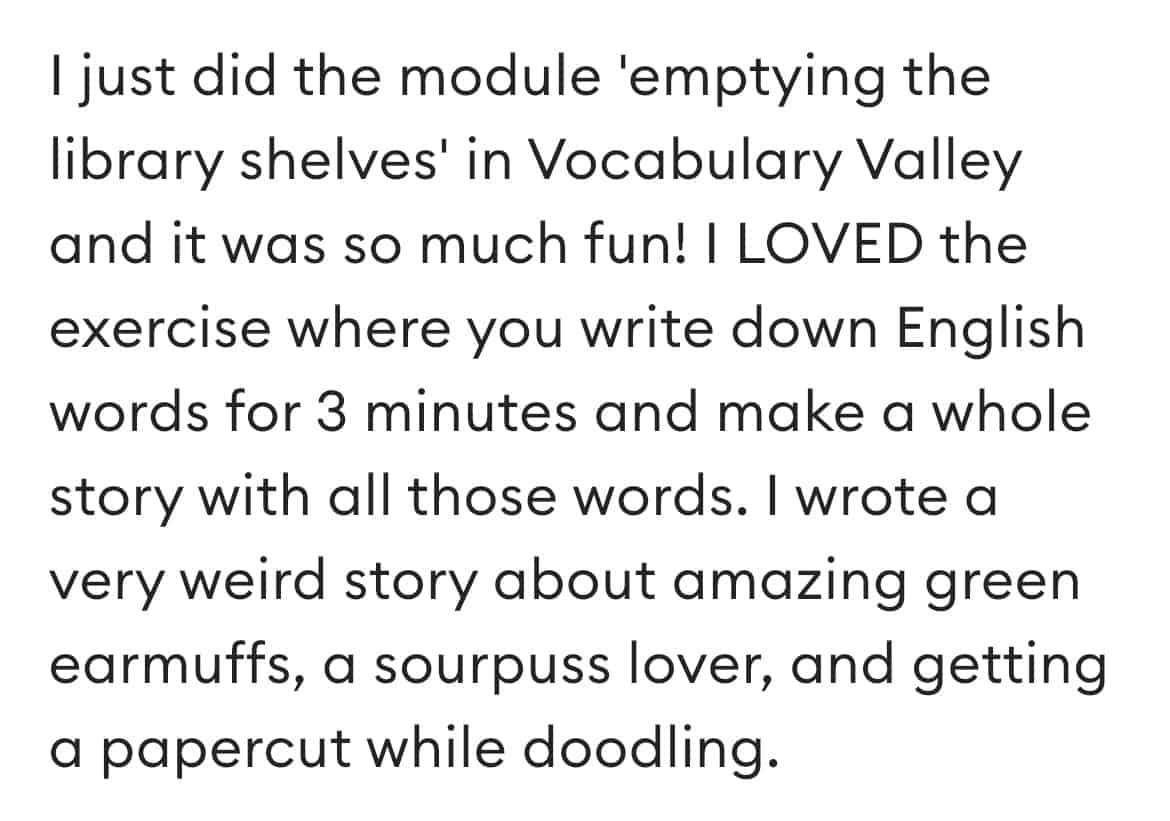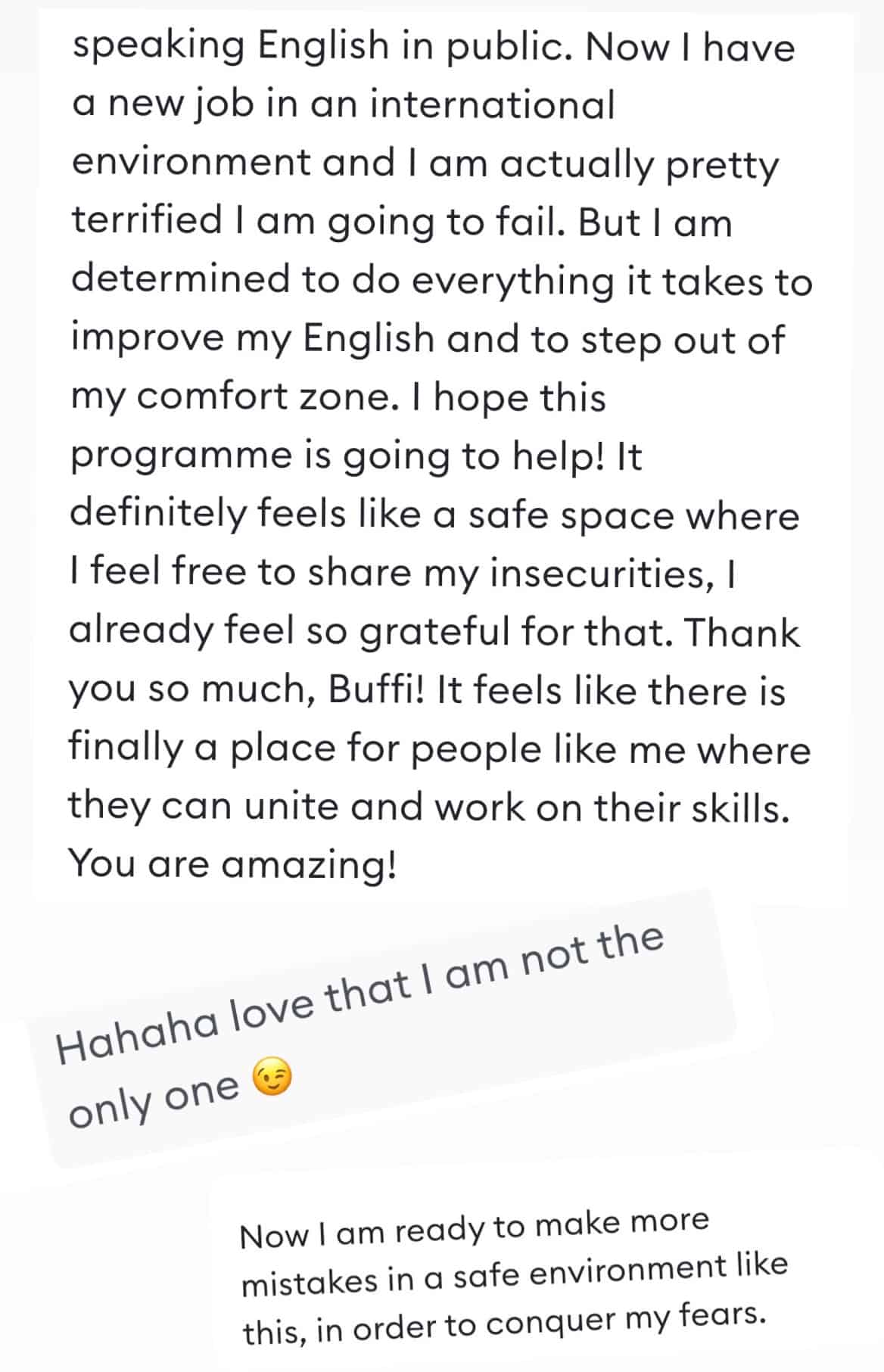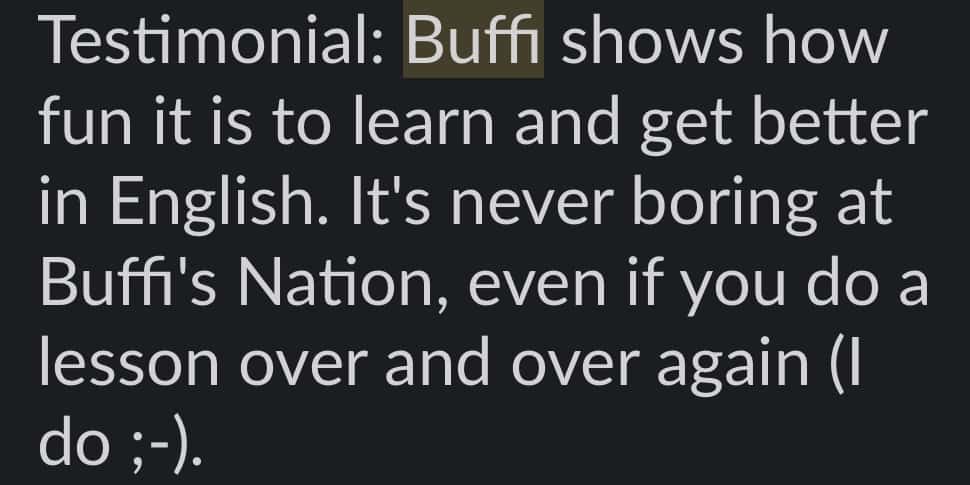 Personal Coaching Clients:
"I didn't want to mess up my lyrics. That's why I called Buffi. And I'm so glad I did!"
"From a British to an American accent in just two sessions. Thanx darling Buffi"
"Buffi has helped me so much with my international interviews. Her advice just makes perfect sense!"
"Buffi helped me to feel so confident in English and now I am able to communicate easily all over the world. Thanks, Buffi – you're the best!"
"Thank you Buffi for the two short sessions we did to prepare for TedXWomen. Your suggestions were spot on, and above all: I very much enjoyed your inspiring company!"
"You're very clear, kind, yet 'to the point' and it felt like a very effective way of coaching: in just three sessions I learned so much and saw a real improvement in my accent!"
"Buffi helped me to achieve a good level in business English. Her enthusiasm, professionalism and creativity are so inspiring. She also had a very good understanding about my business, not only including my work as an artist for radio and television, but also as a moderator for international corporate events. Buffi is one of a kind and an absolute joy to work with."
"I needed to be confident to speak in front of large groups. This was easily achieved with such a wonderful coach. I also asked Buffi to host our Celebrate the Changemakers event. I was so impressed that she introduced every speaker with a poem she wrote just for them – her enthusiasm was contagious. I am so grateful to you, Buffi!"
"Buffi is an artist with words in the English language. If you think she cannot improve your English, think again! It should be mandatory for non-native English speakers to have their speeches, TED Talks or otherwise, screened by Buffi. We would all benefit! I truly rocked my TedxWomen talk! Thanks, Buffi!"
"Buffi asked me this question in my first meeting with her: "How many words you can think of instead of 'good'? I came up with 'great, awesome, fantastic, super, nice….' Now I understand that you wanted me to describe you as a person. Thanks so much for helping me as a person but we are not finished yet….!"
​"Buffi's coaching is straight from the heart, direct and fun. She helped me formulate the essence of my lifes work for my TEDtalk and her encouragement all the way on stage gave me the confidence that I needed to share my story in English. She had my back 100% ❤ Thank you Buffi!"
"Buffi understands as none other that education is all about people. She's such an example to so many."
"I have done several media training sessions with Buffi, and I learn something new every time!"
"As an artist, going from 0 to 90% is easy. It's that last 10% that's tricky. That's when Buffi comes in and gets us there!"
"What a great voice-coach and quite frankly wonderful woman Buffi is! I Love Buffi! She is one of those teachers you wish you had in high school: funny, witty and super duper critical on your pronunciation, but in a good way! All to help you grow your ability to speak amazing English. We had a great session. You immediately feel at home with her, Its a bit like reconnecting with an old friend, but one who is just really serious about your language! 😉 Buffi lets you fall in love with your English all over again! Highly recommended!"
"I have not regretted the day I chose Buffi for my English coaching. What a great coach! She is so energetic and has such a big and warm heart. I love her way of coaching and she has helped me tremendously in such a short period of time, and she combines that with lots of fun. I was so nervous to speak in public, and it's not only much easier now – I really enjoy it! Many thanks Buffi♥"
"I really loved working with Buffi- she gave me such confidence in my English pronunciation during the filming of The Hope Affair!"
"Buffi is the best presentation coach in the Netherlands. I've recommended her so many times- not just for Improve Digital, but also for my international network."
"Buffi brought my confidence back in English during our online sessions. She's such a great teacher – thank you so much Buffi, it really made a difference!"
"Buffi rocked my English AND Dutch and is a fabulous person. She helped me prepare for presentation and debates about investment. She helped me create useful phrases, improved my vocabulary, and gave me presentation tips I could also apply to Dutch presentations! Thank you Buffi!"
"Buffi always helps me to make my lyrics grow. And she is so fast. I'd love to play new songs moments after they're written for an audience. And she makes that happen. She knows me. That helps when someone redirects the lyrics. So much love to Buffi. ❤️"
"Buffi is a real superstar. Not only will she get your English right for your presentation, but especially she'll make sure your confidence is at an all time high! I love working with her, for me it always feels like a really good friend is giving me all the right advice I need to shine. Thank you Buffi!"
"In the European environment I work in, there are many non-native English speakers, and I struggle with improving my English skills and avoiding Europenglish 😉 because of a lack of good examples. After coaching, I can express what I want more diplomatically, I have a broader range of options to share my opinion in international (online) meetings, and I improved my speech-writing skills. Buffi is an excellent teacher who adapts easily to how you learn best. She is also very good in teaching English whilst helping you solve a complicated situation in an international cooperation, where diplomacy is key. And what I like most is that Buffi is a fast thinker and has a great sense of humour!"
"When I first sought a coach/mentor, I wanted something a little different and less corporate. Buffi fits that profile perfectly. Buffi asked why I wanted a mentor. The answer, to help me develop my communication skills, although the English language wasn't the problem, as I'm British. Later I was to discover my reasons were somewhat different. As Buffi told me, behind the why is the real why. Like many senior leaders, I suffered from imposter syndrome, was self-critical and quite tough on myself. Understanding the real why addressed the route cause of the behaviours. My life has changed dramatically, both professionally and personally, thanks to her valuable coaching. I cannot recommend her enough!"
"Through working with Buffi, I learned to bring more playfulness to both my conversations and writing in English. All of a sudden, I wasn't scared of writing emails anymore. Thank you so much for significantly boosting my confidence, Buffi!"
"I had the privilege to work with Buffi for TEDxAmsterdamWomen. I was so afraid to go on stage, but Buffi gave me the feedback, tools, but most of all the confidence to do it. Her bubbly personality made it an absolute joy working with her. Thanks, Buffi!"
"Buffi is a real superstar with a non-superstar attitude. every session we had was more than fun. Buffi is very dedicated and hands-on. This accompanied by the real Bossche Bollen makes it my best investment ever when it comes to coaching."
"Buffi's training was awesome. The first lesson was I think mind blowing for many of us and immediately proved the value of the program. The energy from Buffi is not just the cherry on top, it's a whole cherry tree on top!"
"I always love working with Buffi- her energy and her unique approach help so much with role preparation! Thanks Buffi!"
"Buffi is the best. I don't think I would've been able to make this much progress with anyone else. The fact that she's North American herself ànd she understands Dutch is a very unique thing. L.A., here I come!"
"When inspiring people on a global scale, it is so important that I can verbally express what I feel to communicate my message. I'm so proud to say that Buffs is the best at helping me find the nuances that make my English stories worth listening to as well! She is very well capable of empathising with the listeners and it's the subtle differences which now make these stories both delicious and nutritious. Thank you, Buffi!"
"It's great to work with Buffi intensively. Tailor-made pure sang. Discussing strategies together that can make sure that you improve your English every day, in a simple way is super helpful. I picked it up right away and I'm over a barrier again. She is profesional and inspiring: I can recommend this to everyone!"
"Exploring English in Buffi style is a boost to your brain AND your mood!"
"Buffi is my lyrics specialist. I don't write without her!"
"Don't wait! Register for Buffi's courses – you can thank me later!"
"Buffi? Simply the best!"