I'm just going through the wonderful comments I see in the Communication Nation forum.
It's incredible to see hundreds of people (from 12 countries!) sharing the same goal.
And loving their results!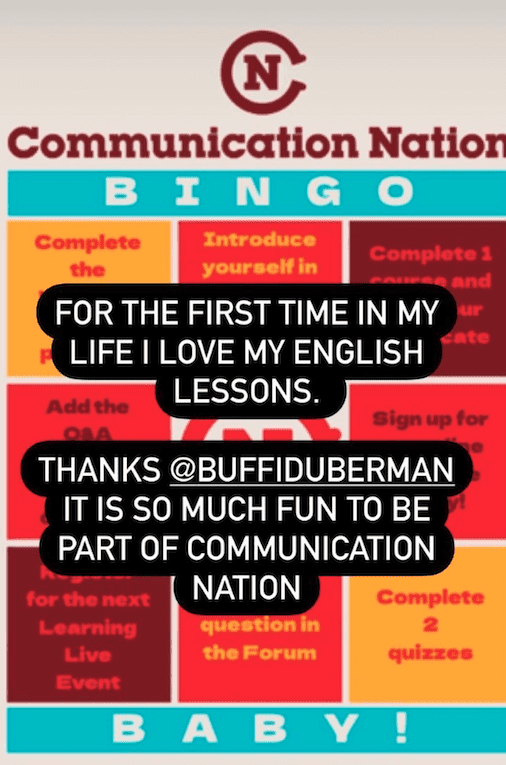 Communication Nation is for members only, and doors are open only 3x a year. This is what you can learn on the inside:
IN THE GRAMMAR GATEWAY: (58 lessons): How to…
– use the present tenses to network well
– apply the past tenses to your career
– finally understand English word order
– the importance of adjectives and adverbs
– the wonderful world of prepositions
– make predictions correctly by applying the future tense
IN THE VOCABULARY VALLEY: (12 lessons): How to…
– triple your vocabulary
– empty the library in your head
– find synonyms and antonyms quickly
– make learning part of your everyday life
– expand your comfort zone and your Word Wardrobe
IN THE BUSINESS BROWNSTONE: (14 lessons): How to….
– frame bad news like a native speaker would
– expand your confidence with useful phrases for meetings
– apply networking strategies with ease
– agree emphatically, neutrally, and hesitantly
– disagree politely and professionally
– ask for opinions with clarity
– network with confidence
– design an elevator pitch
IN THE PRESENTATION PLAYGROUND: (17 lessons) How to…
– discover the 3 pillars all good presentations stand on
– identify your audience
– focus on your purpose
– use the magic 3 to stay top of mind
– make data sexy
– use my presentation templates and useful phrases
IN THE WRITING WELL: (16 lessons) How to….
– stop mixing up confusing words
– start and end your mails professionally
– create intimacy and trust in writing
– apply the different degrees of formality to strike the right tone
– use my email template to write with ease and clarity
IN THE MINDSET MANSION: (7 lessons) How to…
– ditch the impostor syndrome
– focus on progress, not perfection
– stay in communication when you don't know the right word
– deal with nerves for any personal or professional situation
– change the game in 5 seconds
IN THE PRONUNCIATION PARADISE: (22 lessons) How to…..
– differentiate between the blown and buzzed TH
– mute the T and D when appropriate
– use the schwa naturally
– not say the ninja letters
– increase confidence with phrasing and flow
– emphasize the right part of the sentence
– handle challenging words and tongue twisters
– Plus Communication Nation members get live events, free monthly coaching sessions, and daily check ins with an English coach!
The course is valued at over €3,000 euros but you can join for just €399 a year.
However, if you join by TOMORROW NIGHT, you can get €170 off (!!) and get a year's access for just €229. Or a half year for just €149.
Not a typo!
This Early Bird Price ends tomorrow night.
I will see you on the inside!
Liefs,
Buffi
PS: If you order the program because a current Communication Nation member recommended it to you, please add their name to the checkout notes, as shown with the blue arrow below. They will get a free gift from me as my way of thanking them! We love giving gifts in Communication Nation!