Because better communication is more than just better words. 
It's a better mindset.
Feeling awkward in English holds you back from expanding your business, serving others with your knowledge, and sharing your message with the world.
Let's go from awkward to awesome and discover how confidence and clarity will transform your business and your mindset!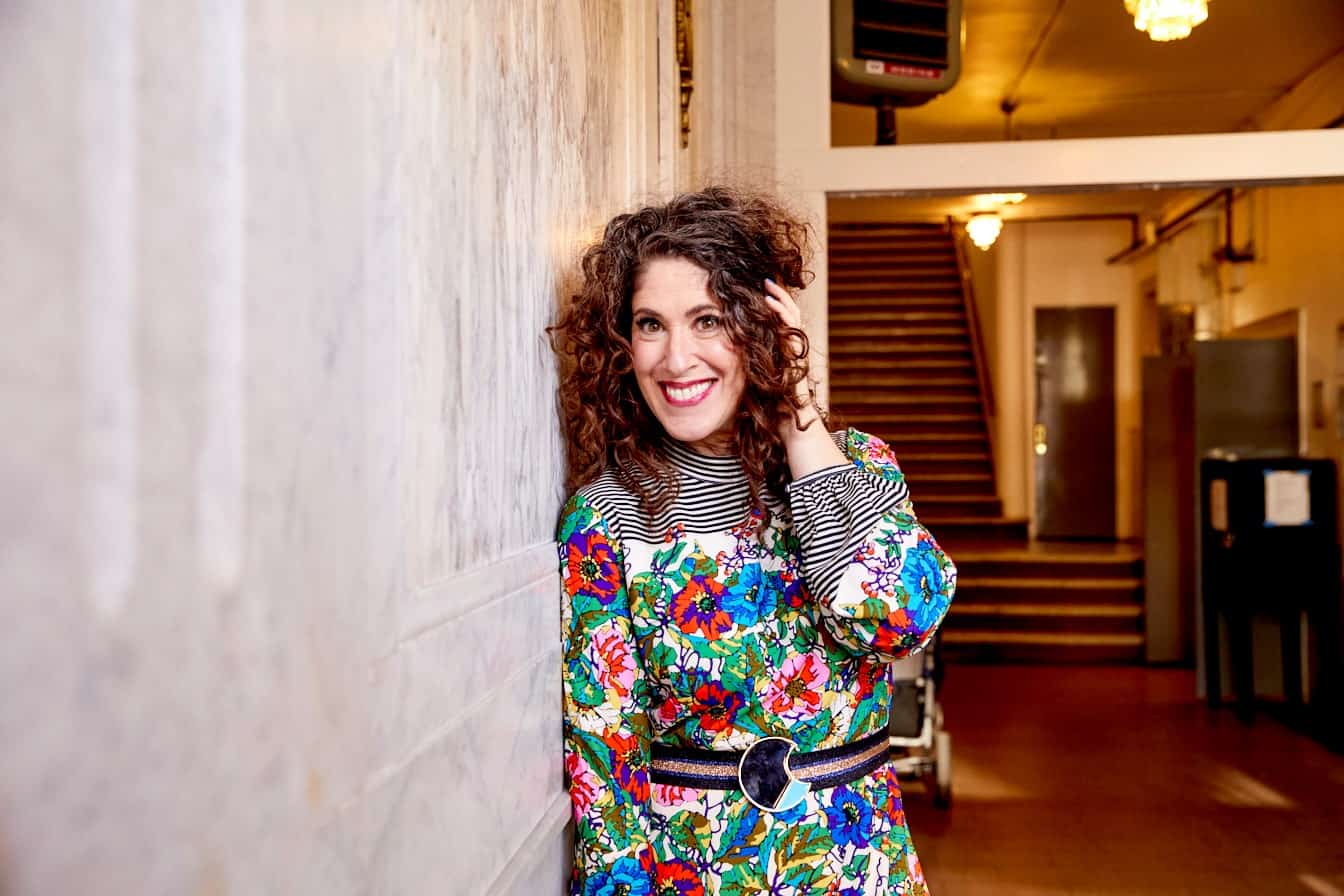 Which one sounds like you?
If you give me 8 weeks, I'll give you an unforgettable learning journey to English confidence!
….knowing what to say, how to say it and WHY this is the best choice.
….walking into every meeting, interview, podcast, or event, feeling full  of confidence and joy, excited to share your story?
….being seen as the 'go to' person for everything international?
….having so many words in your Word Wardrobe you could finally find the BEST one that truly reflects what you want to say?
….responding to emails (yes, even bad news emails) with confidence and ease?
….presenting with such joy and enthusiasm that you never want it to end?
….being asked back to speak at events in new places (yes, abroad!)?
This is what happens after completing Great in 8. But don't just take it from me. Check the testimonials.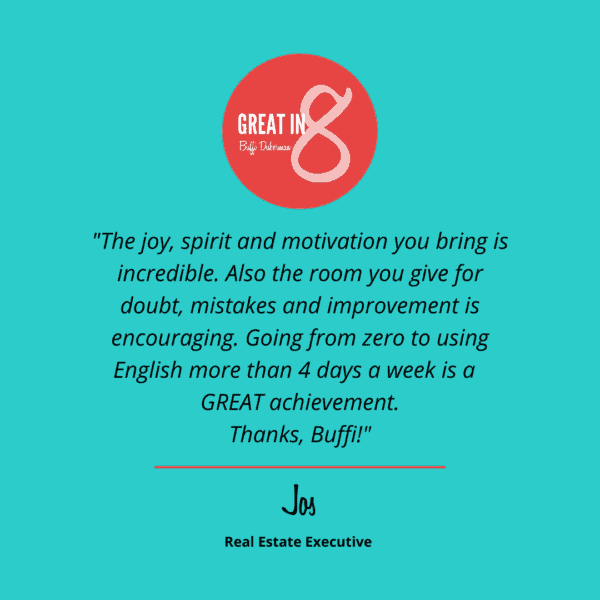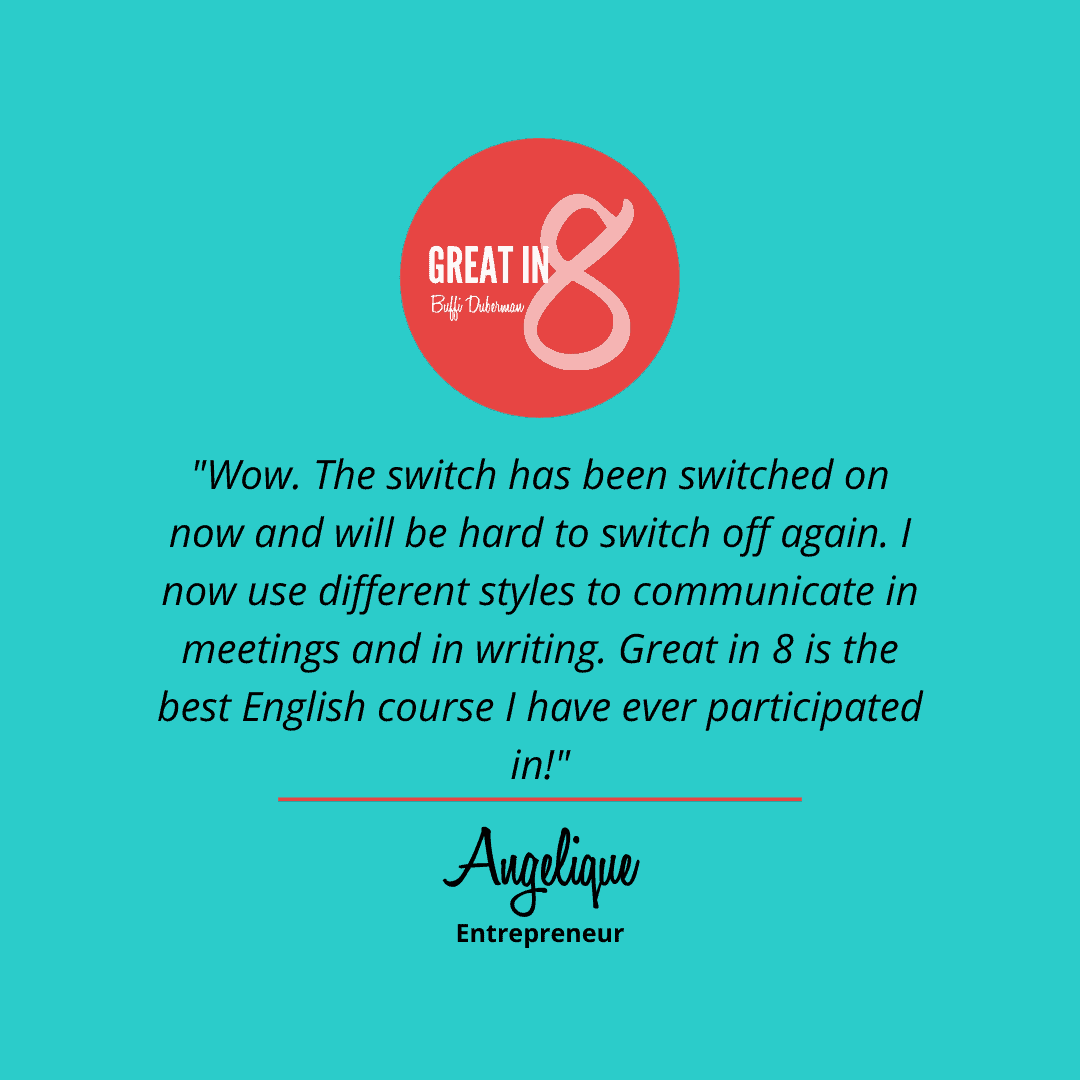 Great in 8 graduates give this program a 9 on average. Here's why:
"Great in 8 totally impacted my communication, not just my English communication. I started Great in 8 with the idea that it was an English course with various perspective. Turned out it was a whole lot more than that, and in the meantime, I strengthened my English. The lessons om negotiations and different communication styles had such an impact on me. Great in 8 is like no other course out there. It changes how you communicate. With others, but also with yourself. Bye bye imposter syndrome!"
"My greatest breaktrough is that Buffi encouraged me to put a lot of energy into improving my English and this resulted in me getting much more confident. The Zoom sessions were great, like meeting up with soulmates every week. Great in 8 is all about confidence. I give this program a 9!"
"I wanted to feel more comfortable speaking English and receiving feedback on my 'normal speaking English' as I only receive feedback om my written articles. Great in 8 had a great impact as I now actively seek out English conversations where I would otherwise maybe try to avoid them. Even outside while walking the dog 😉 I now think of it as my new mindset."
Kickoff: September 15, 10.00-12.30, in Den Bosch or Amsterdam (TBD).
Group Sessions – 10.00-11.30: September 18, October 2, October 16, October 30.
Private Coaching & Feedback: Throughout the entire program.
Live Presentation Day: November 9, 9.30-13.30 (lunch included), in Den Bosch or Amsterdam (TBD).
Communication Nation Members: €1995 or 3x € 699.
Non-CN Members: €2245  or 3x € 789 (6-month membership to Communication Nation is included).
(All prices are ex VAT.)
Now's the time to finally take that small but important step that will have an amazing ripple effect on your professional and personal life. Feeling awkward about how you communicate in English holds you back from expanding your business and having more impact on the world.
If you'd like to work with  me for 8 weeks on improving your grammar to frame your message like a native speaker, edit your writing (emails, webtexts, press releases) to make it magnetic, improve your pronunciation so you can speak with confidence, help you write an updated CV, and present with flair and ease, and so much more…. I'm in if you are.
Why wait?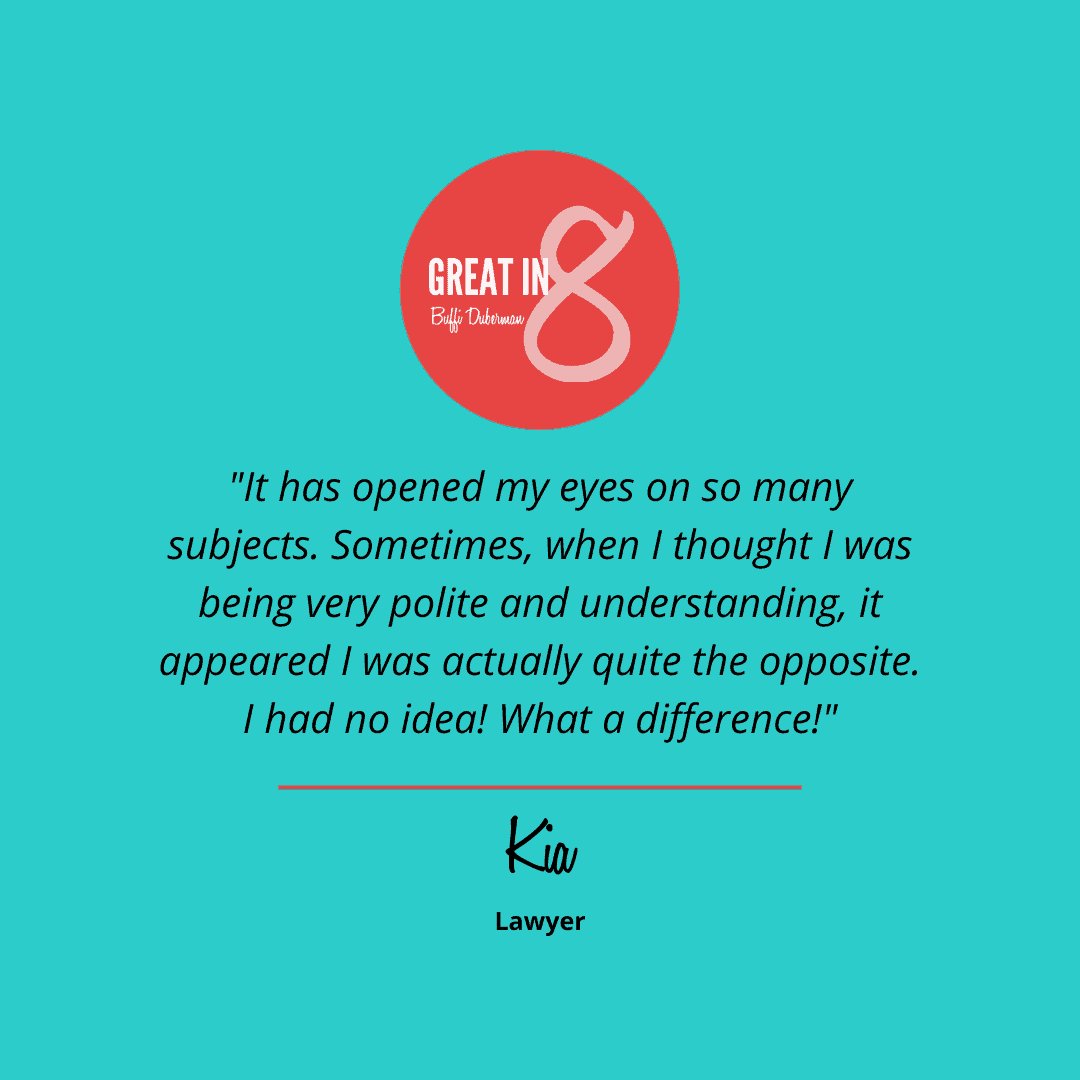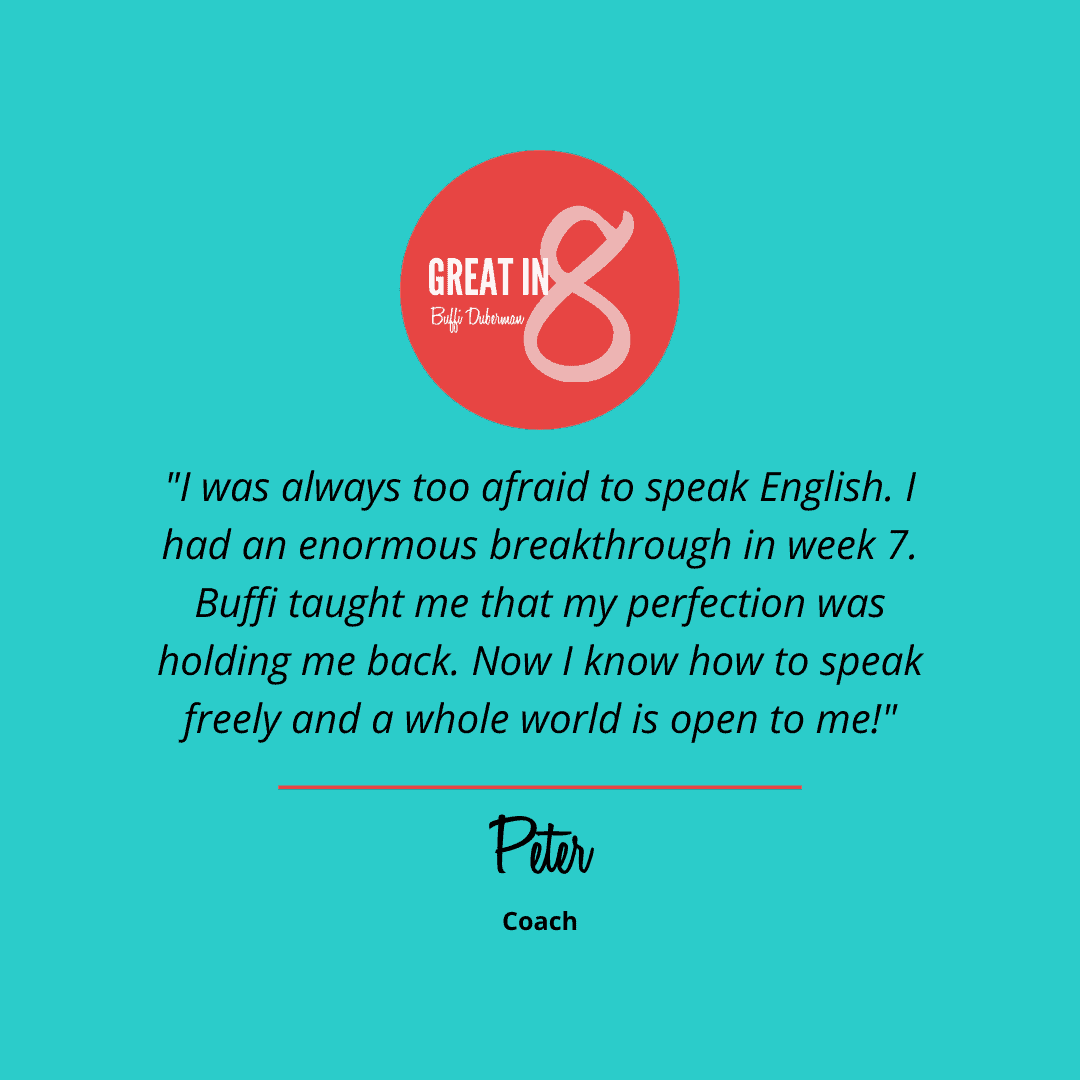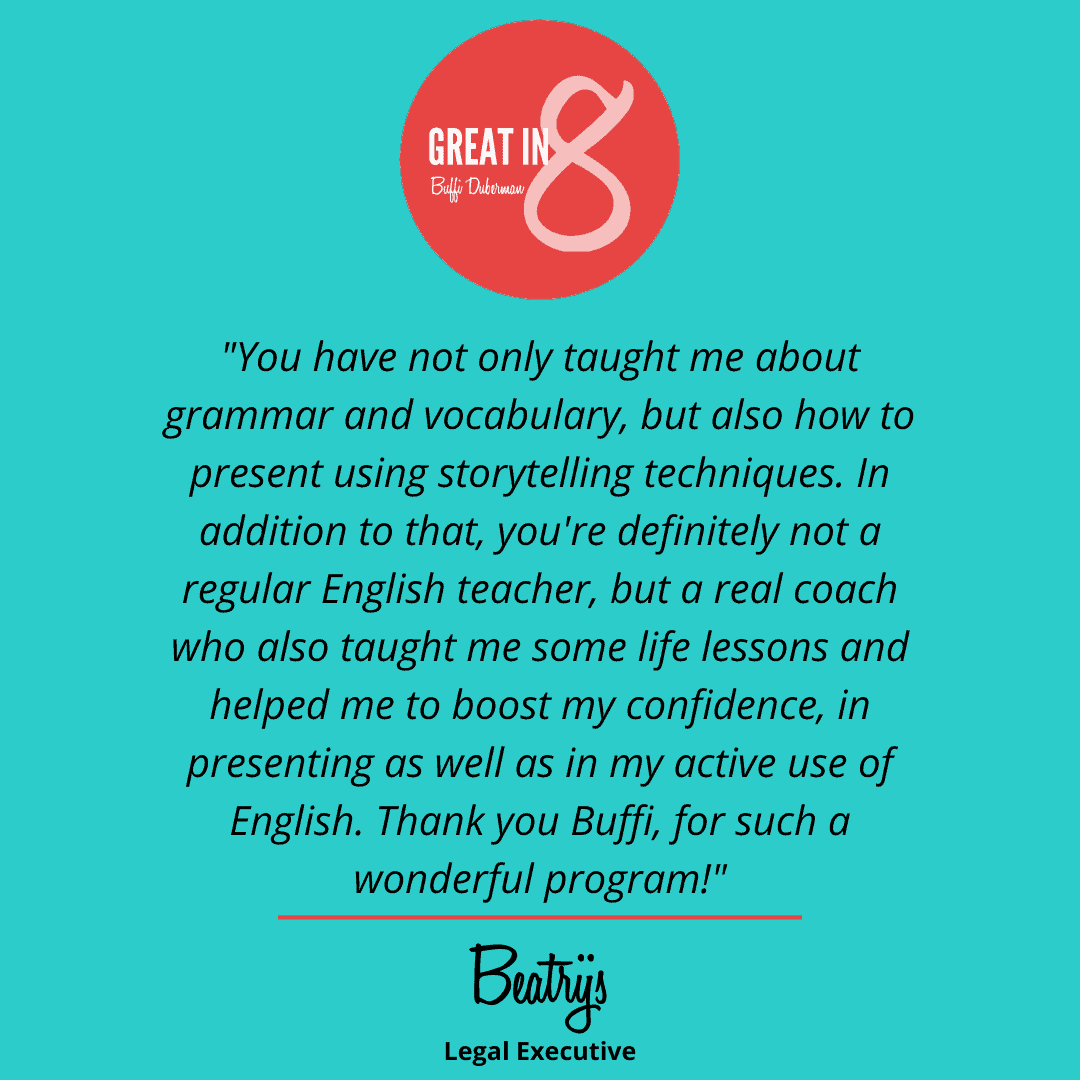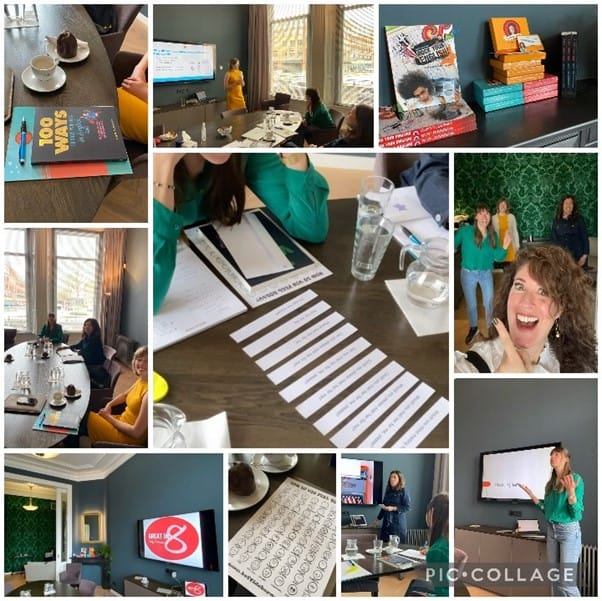 Not sure if this is right for you? Got it. Let's check.
'I don't have a lot of time to learn English.'
Neither do I. That's why I designed the Great in 8 program – to keep you sharp and challenged in a limited amount of time. Your weekly investment is usually less than 2 hours a week.
'I'm not able to invest a lot at the moment.'
No problem! You can pay for Great in 8 in terms if that suits your budget better. And I am sure it will pay back for itself, as so many Great in 8 graduates get new clients, international assignments, and more speaking engagements when their English is at a higher level.
'I get bored easily.'
Me too!  Why should learning be boring? Not my thing. That's why I use humor and fun examples in everything I do. The Volkskrant even said I had more one-liners than a stand-up comedian! I have been teaching English since 1986 and I have never heard, not even once, that my lessons were boring. I promise to keep you motivated and inspired!
'I hated English at school.'
So did I. I had a teacher who was not inspired or passionate about what she was teaching. I knew that this was a waste of her time, and unfortunately, a waste of mine too. I knew that learning English could be fun and cool. That's why I wrote my first book Rock Your English! and did this live on stage at Lowlands for a crowd of 10,000. It was a total blast! My passion for teaching and my wacky sense of humor comes through in everything I do. You'll get a shot of Buffilove every week in Great in 8!
'I want to continue learning after the course has finished.'
You have 6 months access to the Communication Nation website and app, and we can also discuss the possibility of follow-up coaching after Great in 8 has ended.
'I get nervous in groups.'
And that is exactly why I am limiting this to 6 people only. I want to work with a small, highly-motivated group so I can personally encourage everyone and give everyone individual assignments, challenges and feedback.
'I have no discipline and I'm lazy.'
When you know you have a on online session with your English coach who will check your homework, and encourage  you to activate what you are learning, then I am sure you will find a way to do your homework! 🙂
'I don't live in the Netherlands.'
Everything will be done online except for the live training days, which will be announced weeks in advance, so that you can get your travel arranged on time. If this is not possible, you are always welcome to join us online!
'I am not a business person, is this right for me?'
You don't have to be a business person or an executive to join this program. Many of my clients are artists, actors and designers. I'm very creative myself and want to help you expand your confidence and accuracy in communication. If you want to feel confident and professional, this is the course for you!
'I don't need English at work yet.'
Perfect – then now is the BEST time to get your English communication skills ready for action! You can practice and learn with me, and then when the time is right you will ease into English and sound even more professional than your colleagues. Start before you're ready, and your confidence level (and your results) will be strong and solid when you need them the most!
This program is for you if you want to:
This program is NOT for you if you:
This is for highly motivated people who want to improve their English communication skills, in both writing and speaking.
The entire program, including the digital intake, the phone intake, 6 months access to Communication Nation, 8 weeks of coaching and 2 exclusive live training days is € 1995 (ex VAT) for current Communication Nation members, and € 2245 (ex VAT/btw) for non-CN members. Payment in terms is possible.
Your spot is confirmed upon payment, and you can reserve your spot by paying one payment term. This is €699,00 for Communication Nation members, and €789,00 for non-members. You can also pay in full to guarantee your place.
The time investment, on average, will be 2 hours a week. The more you put into the program, the more you will get out of it.
The coaching call will take place every other Monday from 10.00-11.30 Amsterdam time. The sessions will be recorded and sent to you, so you won't miss a thing if you have to miss a live call!
I will send you a recording of the call we had with the group so that you can see what you missed and get the new challenge of the week.
We start with a live kickoff day to meet the other members and share our goals and our challenges. 
Then we have alternating weeks between group coaching calls and private feedback weeks. The group calls will have a specific theme, and there is always time at the end to ask questions or share with the group. These calls and the coaching notes are recorded and sent to you after every session.
We end with a live presentation day, where you will be presenting for the other members, and will get full circle feedback, plus a lovely lunch and a personalized Certificate of Completion!
This is where we work together on your PCP – your Personal Communication Project. We will have a 1:1 private channel in Communication Nation, and that is where you can upload documents, audio, and video for me to check for you. Your PCP could be 1 major project or several smaller ones – it's all up to you! This could mean creating  a catchy and stylish text for your website, personal pronunciation support on sounds or words you struggle with, me checking your emails before you send them, helping you with your slides…basically it's what you need coaching on in English! This is how you bring all the theory together and start activating it in your own personal or professional life. I will support you every week throughout the program.
The more you put into Great in 8, the more you will get out of it. Just like everything else in life, right? There is no standard homework but I do expect you to ask for support and feedback throughout the program.
Perfect – this is the best way to start – learning in a small, supportive group, and then practicing with us during the live Presentation Day!
It's my new e-learning platform and app! It's full of lessons, quizzes, and workbooks to help you stay active throughout the program and a wonderful way to connect with the other members. Have a look here to see how others experience this innovative platform.
I have a secret stash of fabulous materials that are not found anywhere else. These workbooks are only available to Great in 8 members.
Everything will be online except for the live coaching days which will take place in Den Bosch or Amsterdam (TBD).
The coaching calls are done via Zoom with the other Great in 8 members. You can learn so much from each other and it's a great (I mean Great!) way to see how other people deal with communication challenges in English and the coaching advice they receive. When I coach you in the group, the other members are muted.
Every coaching session will be recorded and sent to you afterwards. This recording is kept confidential. All mentorship and communication both privately and in our Communication Nation channel is kept confidential as well.
Absolutely! I will be there to support you online throughout the entire program.
We start with our live kickoff day on September 15, and our Presentation and Graduation Day is on November 9.
I want to keep this group small so that I can give everyone personal attention and feedback.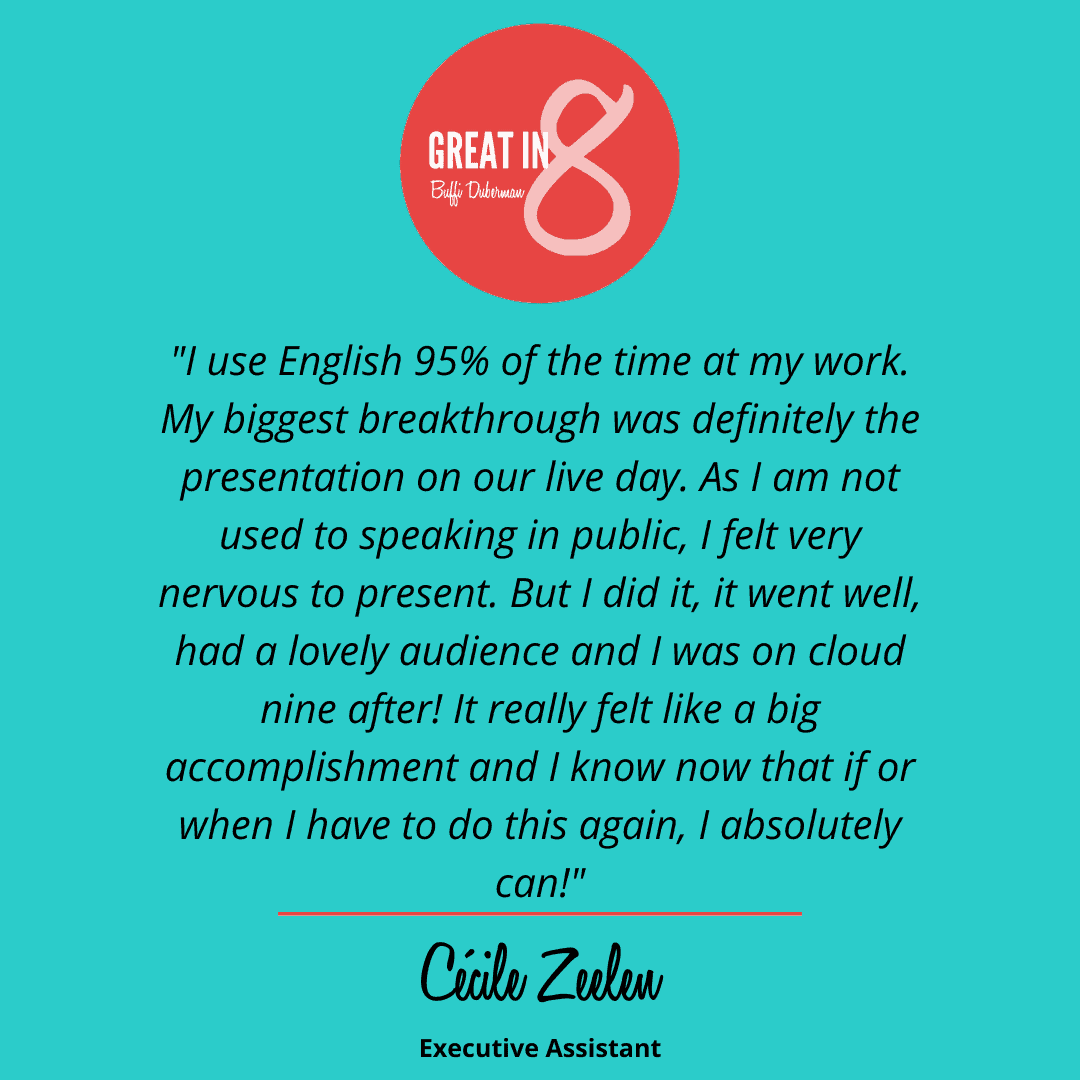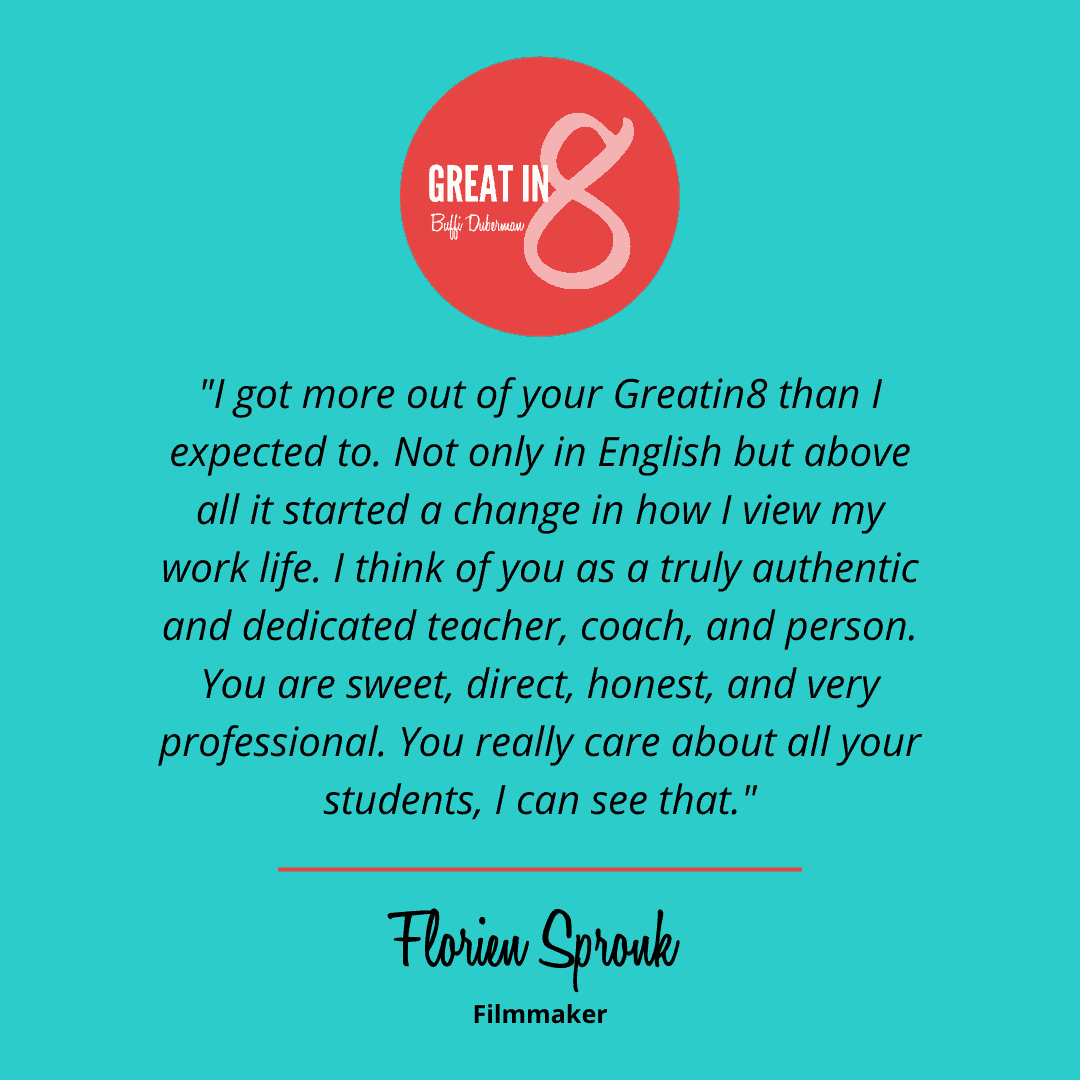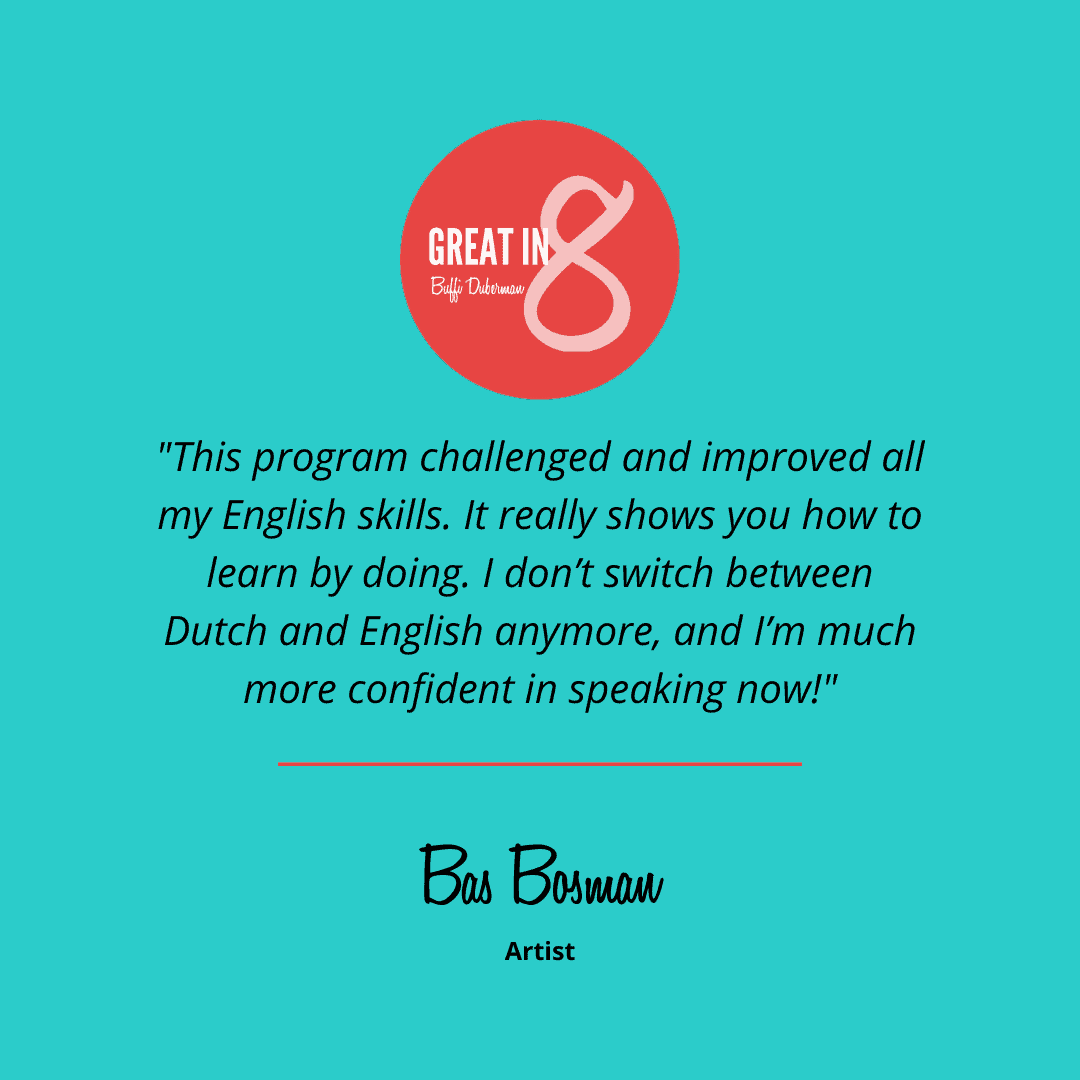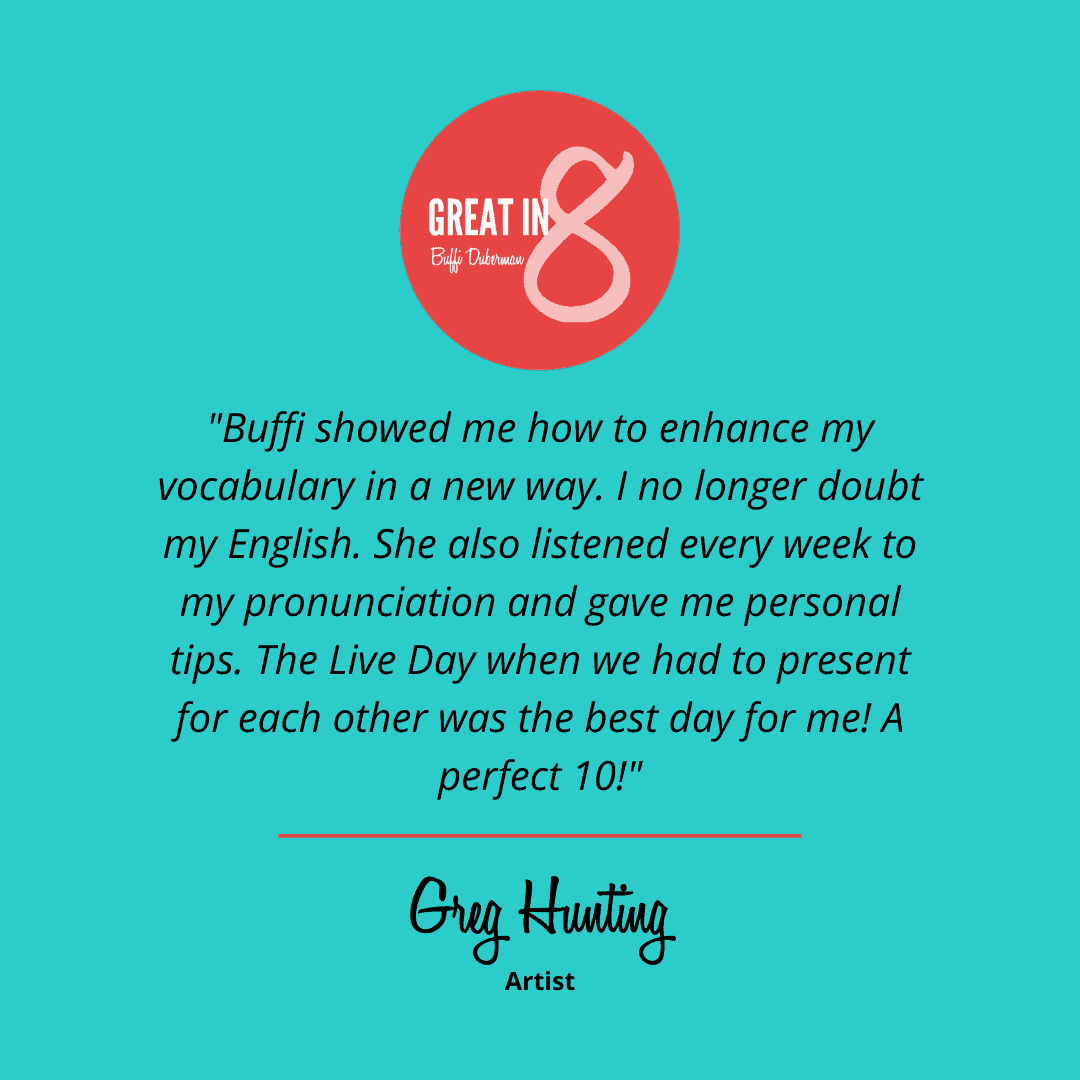 Click here to set up a free intake session
to see if Great in 8 is a good match for you!