'Let's go from awkward to awesome in English!'
'To find out more about Communication Nation, and get a FABULOUS special Communication Nation offer that you will NOT get anywhere else, sign up for my free masterclass on October 3!'
DOORS OPEN OCTOBER 4… FOR 72 HOURS ONLY!
Then they are closed for several months!
Put me on the waiting list so I can be the first to know when the doors will open again!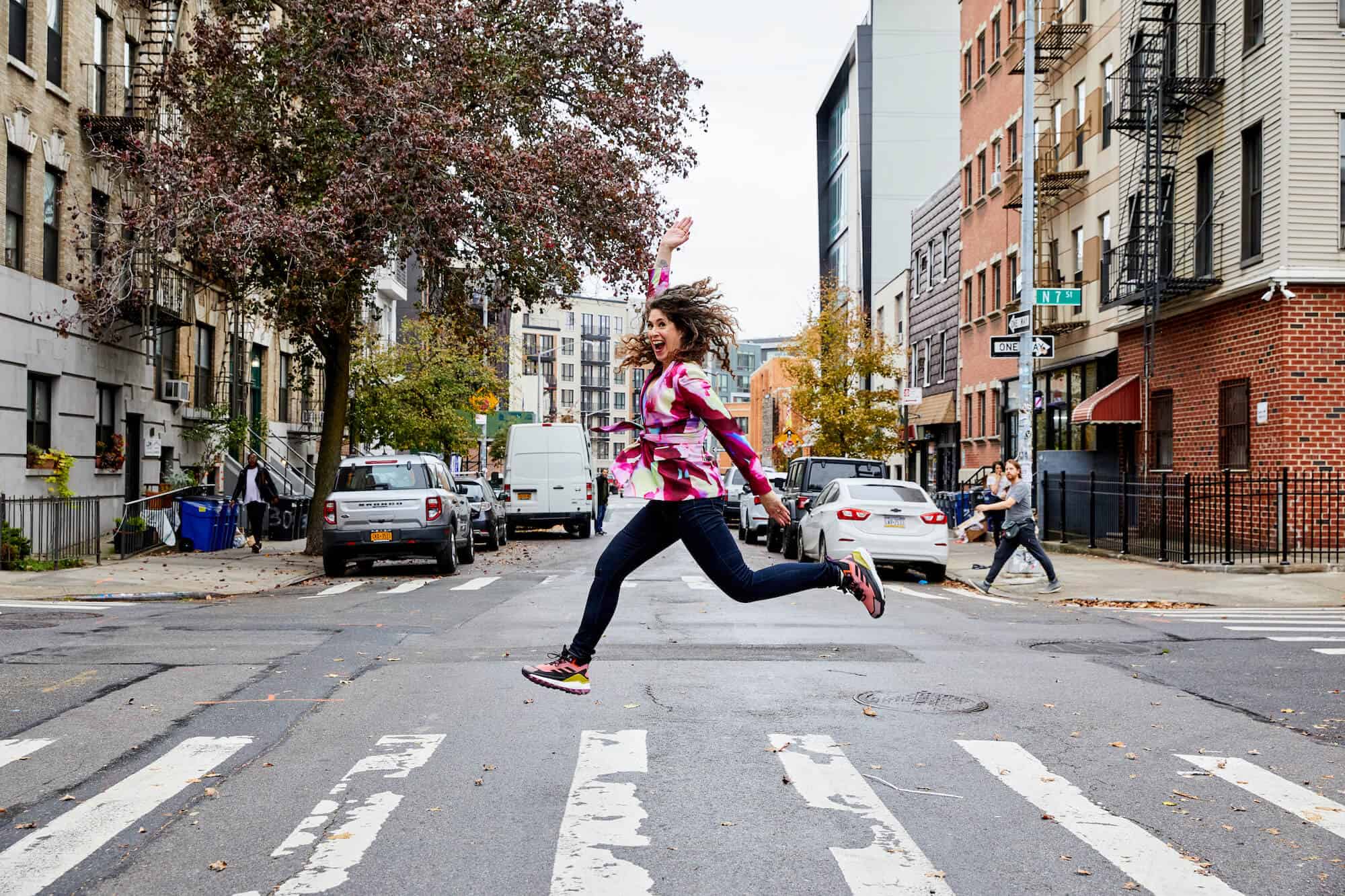 Welcome to the world's first omnichannel, hybrid, Business English Membership Program! 

Free Webinar: Crafting Communication Confidence - May 9!
What is the difference between 'good' and 'great' English?
How can you sound and feel more professional and confident in English?
How do my clients add true value to their business….and themselves?
Find out in my FREE webinar!
It's an interactive hour of power!
Join me live for an unforgettable trip through Buffiland.
I'll show you things I've never shared anywhere else.
Space is limited, and it will NOT be recorded, so sign up for the time that works best for you!
Get communication clarity…for free!
Previous webinar participants gave this an 8.6!
Would you just like to sign up for the Communication Nation waiting list without seeing my webinar? No worries! Just scroll down a bit and you'll see the CN waiting list sign up!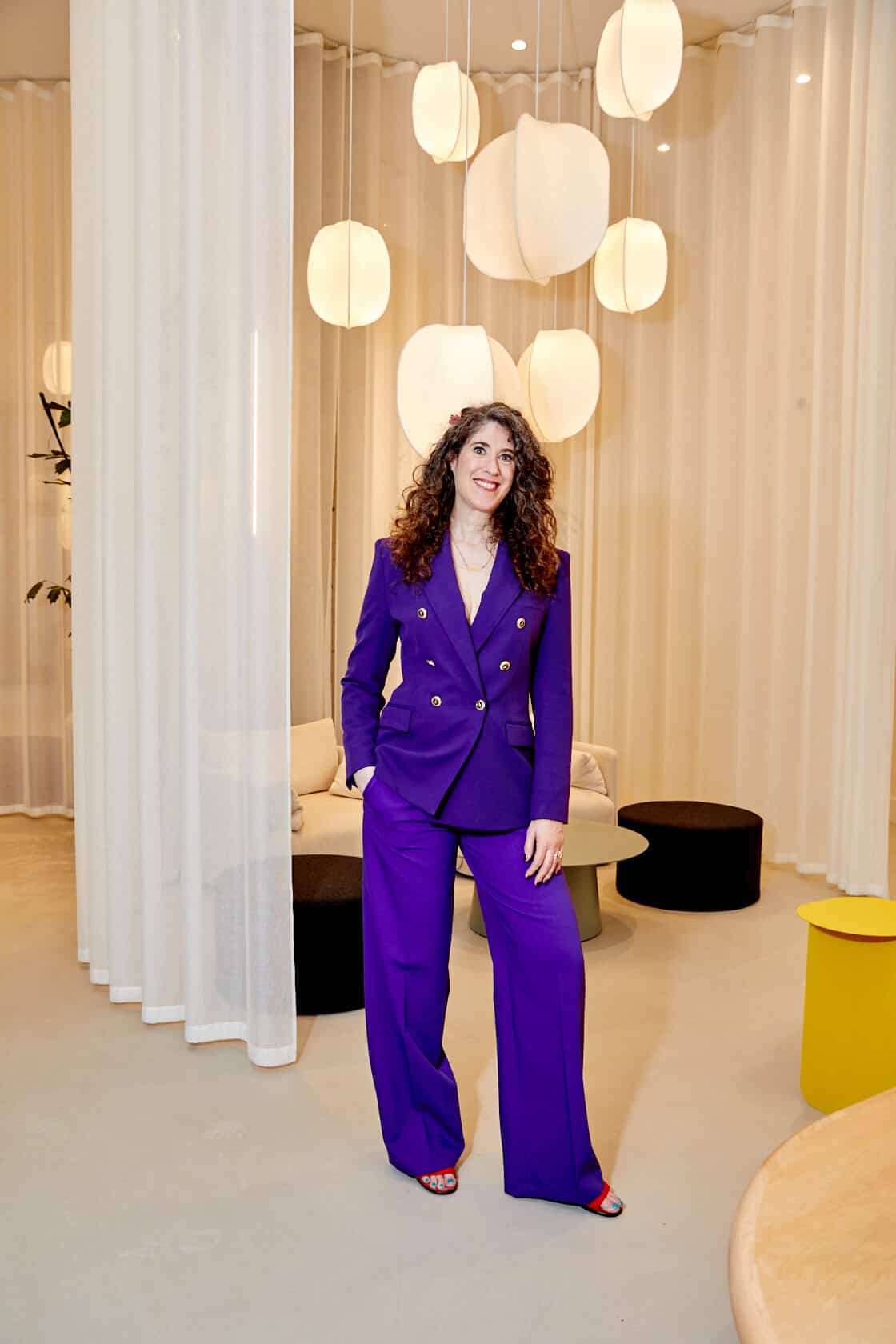 I am in! Put me on the waiting list!
Communication Nation doors open soon!
Communication Nation doors are closing soon!
I get it. This is what my clients struggled with too.
Until we started working together.
Better English communication creates a mindset of confidence and clarity, so that you can add true value to the world, both personally and professionally.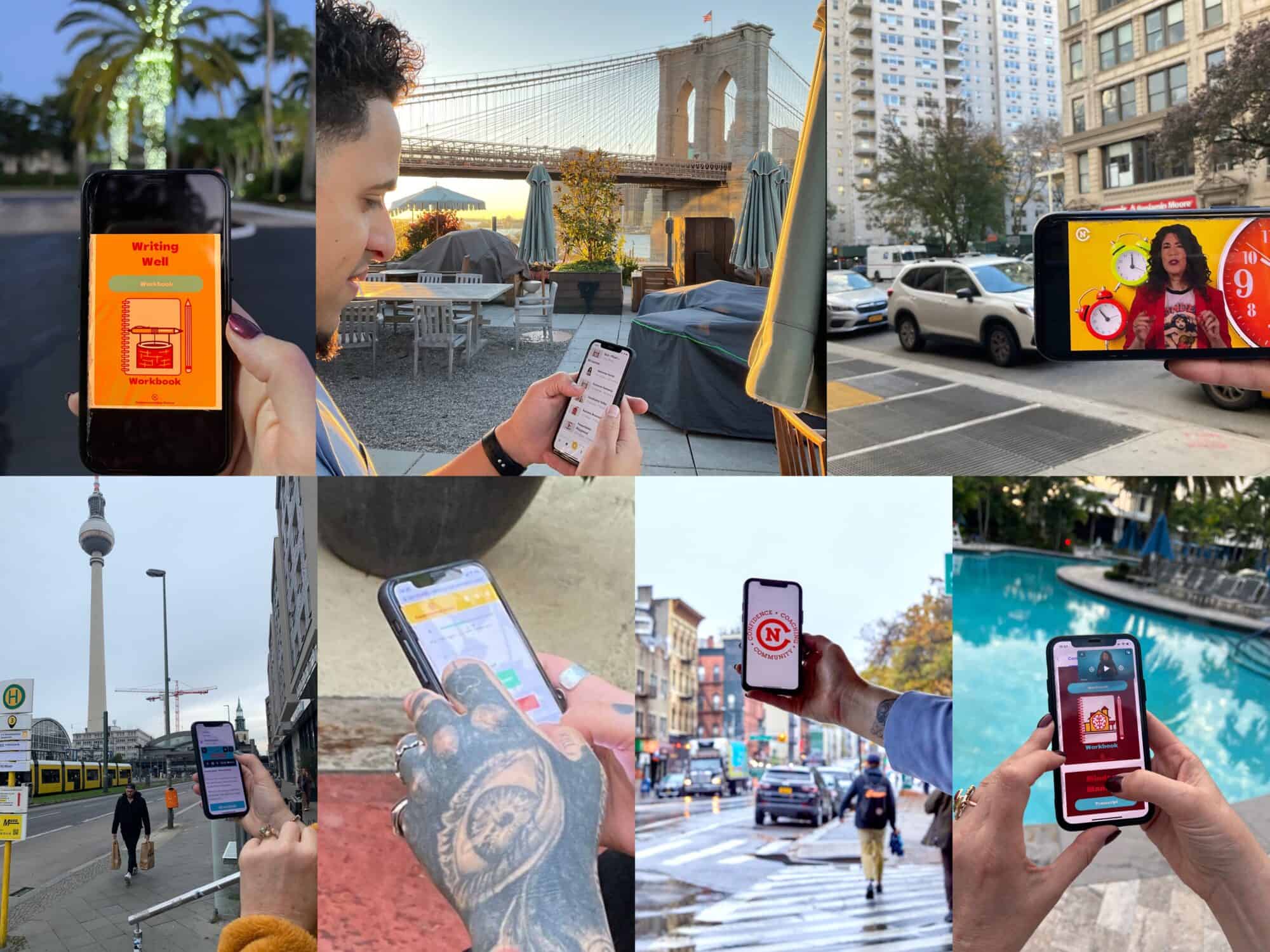 WHY IS CN DIFFERENT FROM ANY OTHER ENGLISH PROGRAM IN THE WORLD?
To find out more about Communication Nation, and get a FABULOUS special Communication Nation offer that you will NOT get anywhere else, sign up for my free masterclass on October 3!'
WHAT DO CLIENTS SAY ABOUT THE PROGRAM?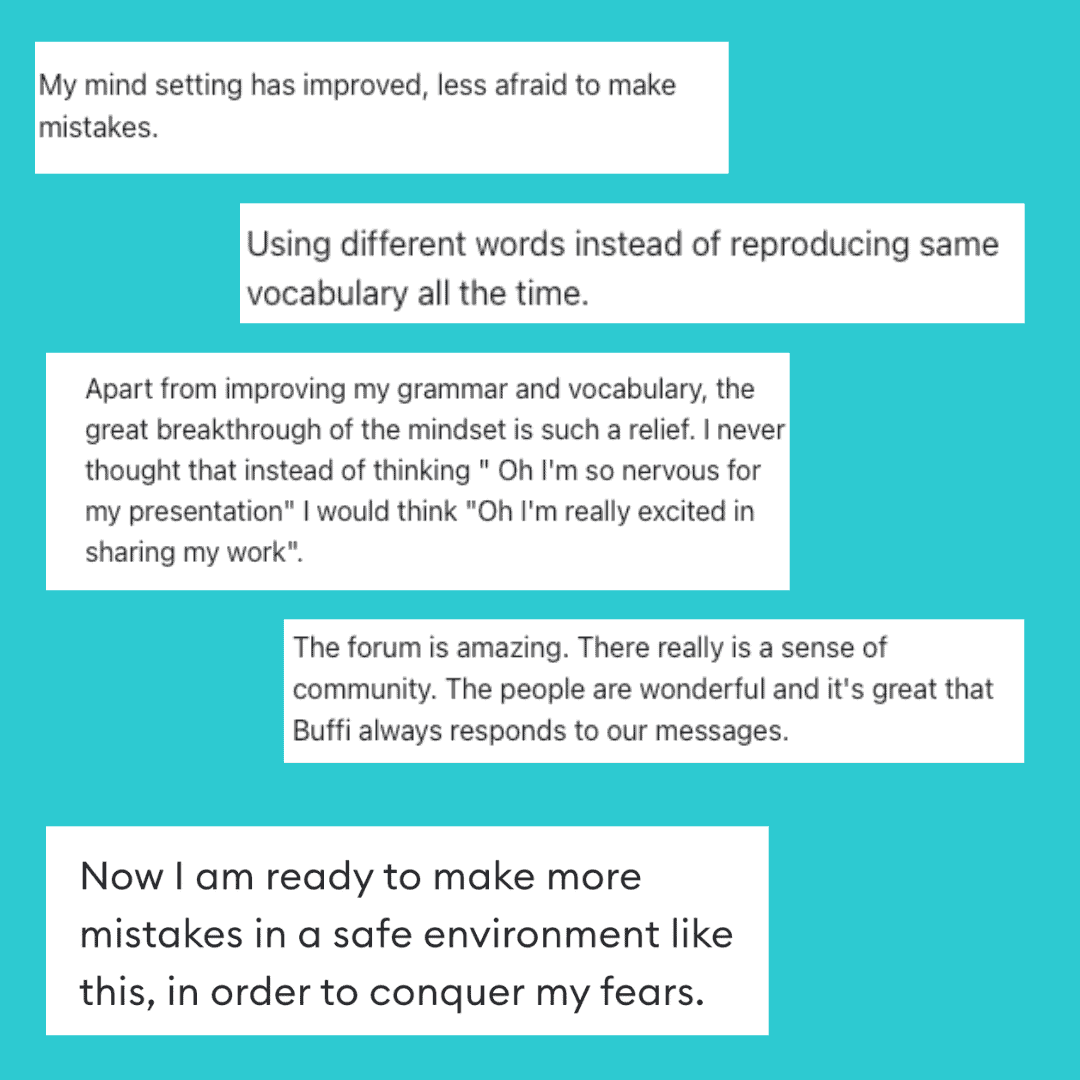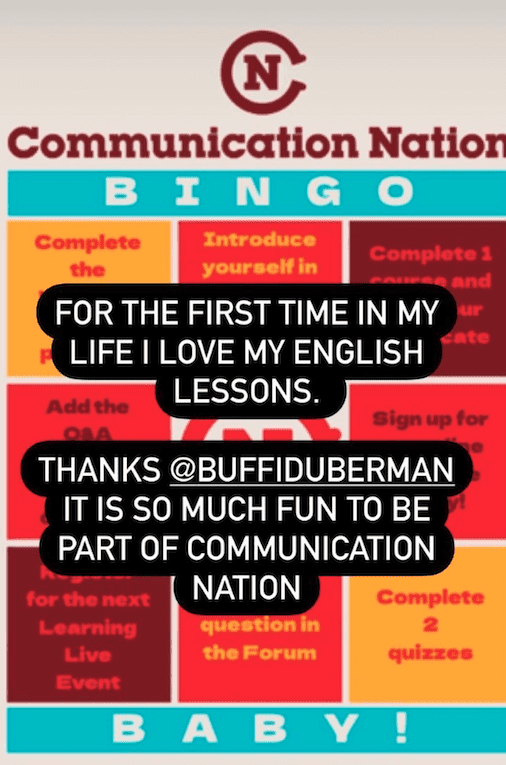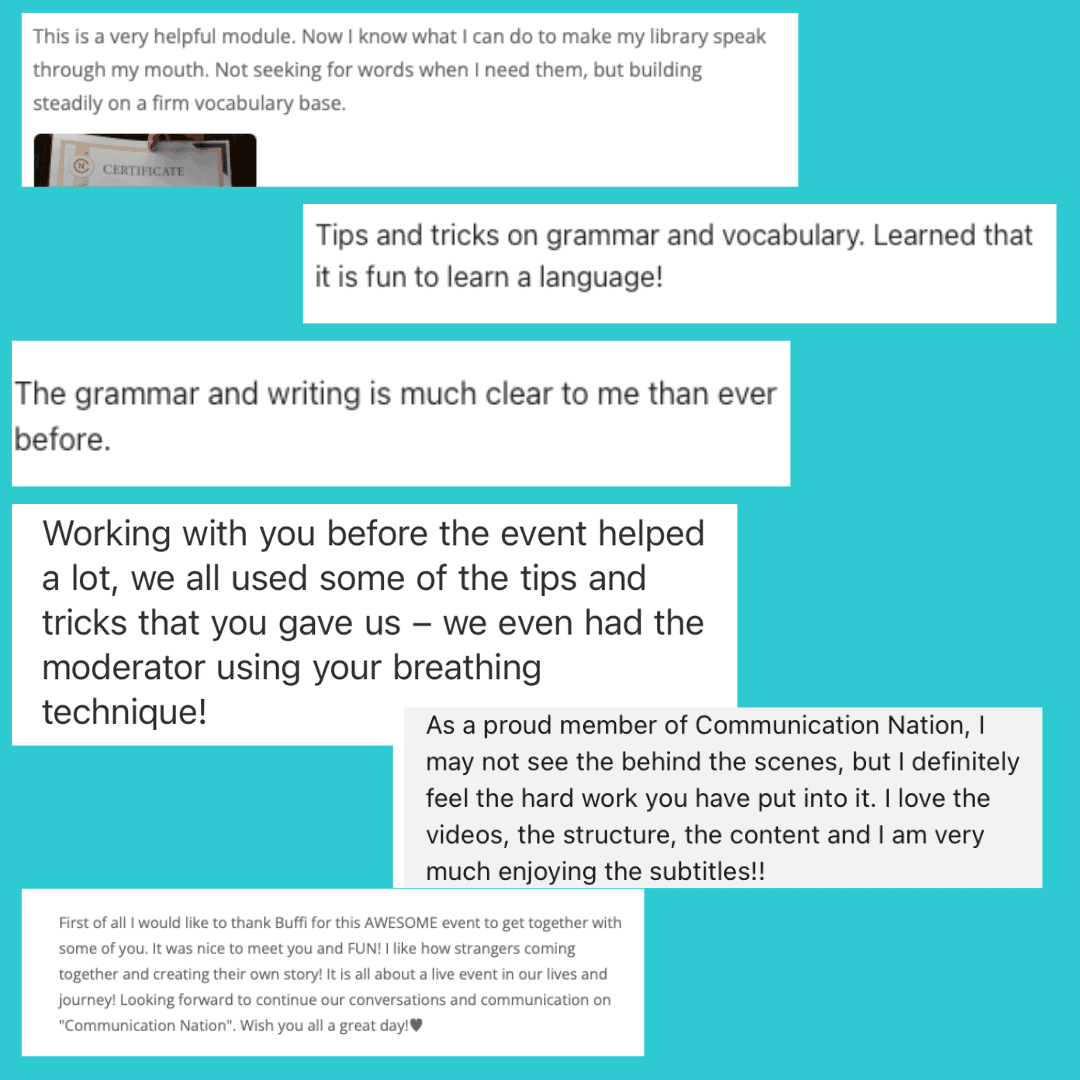 I am in! Put me on the waiting list!
Fun Communication Nation numbers: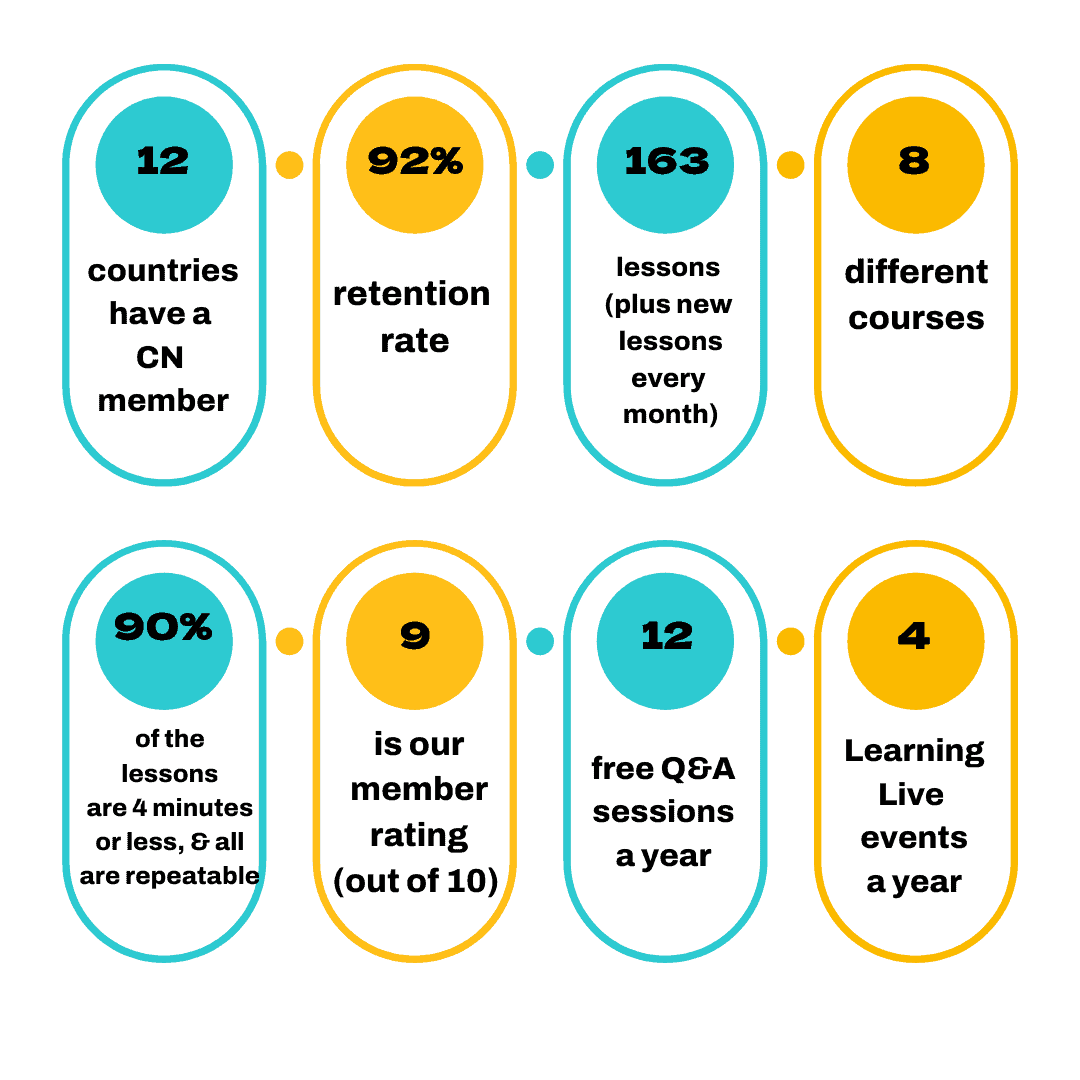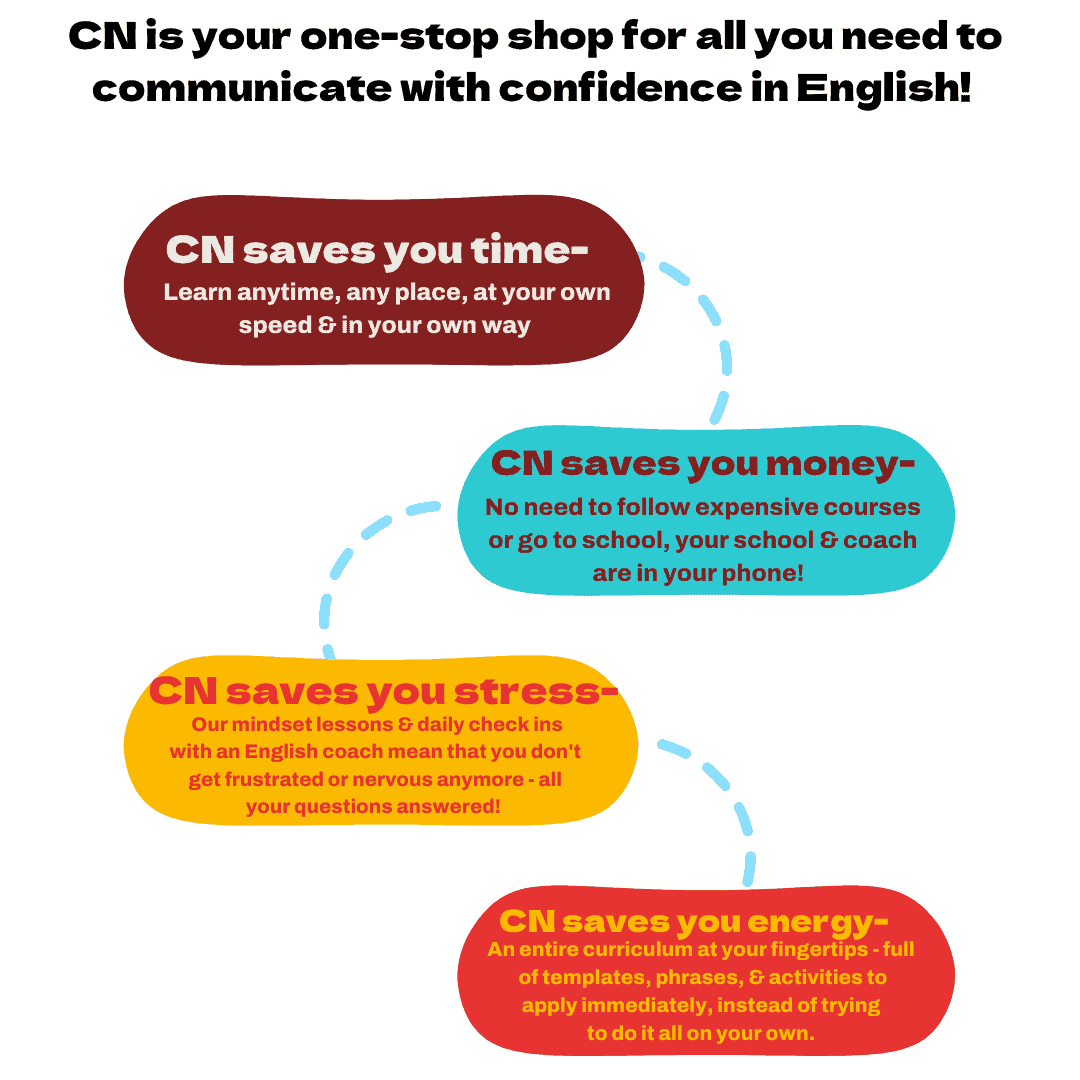 Sign up for my free masterclass on October 3 and get a FABULOUS special Communication Nation offer that you will NOT get anywhere else!
This is what our CN members say about our Learning Live events: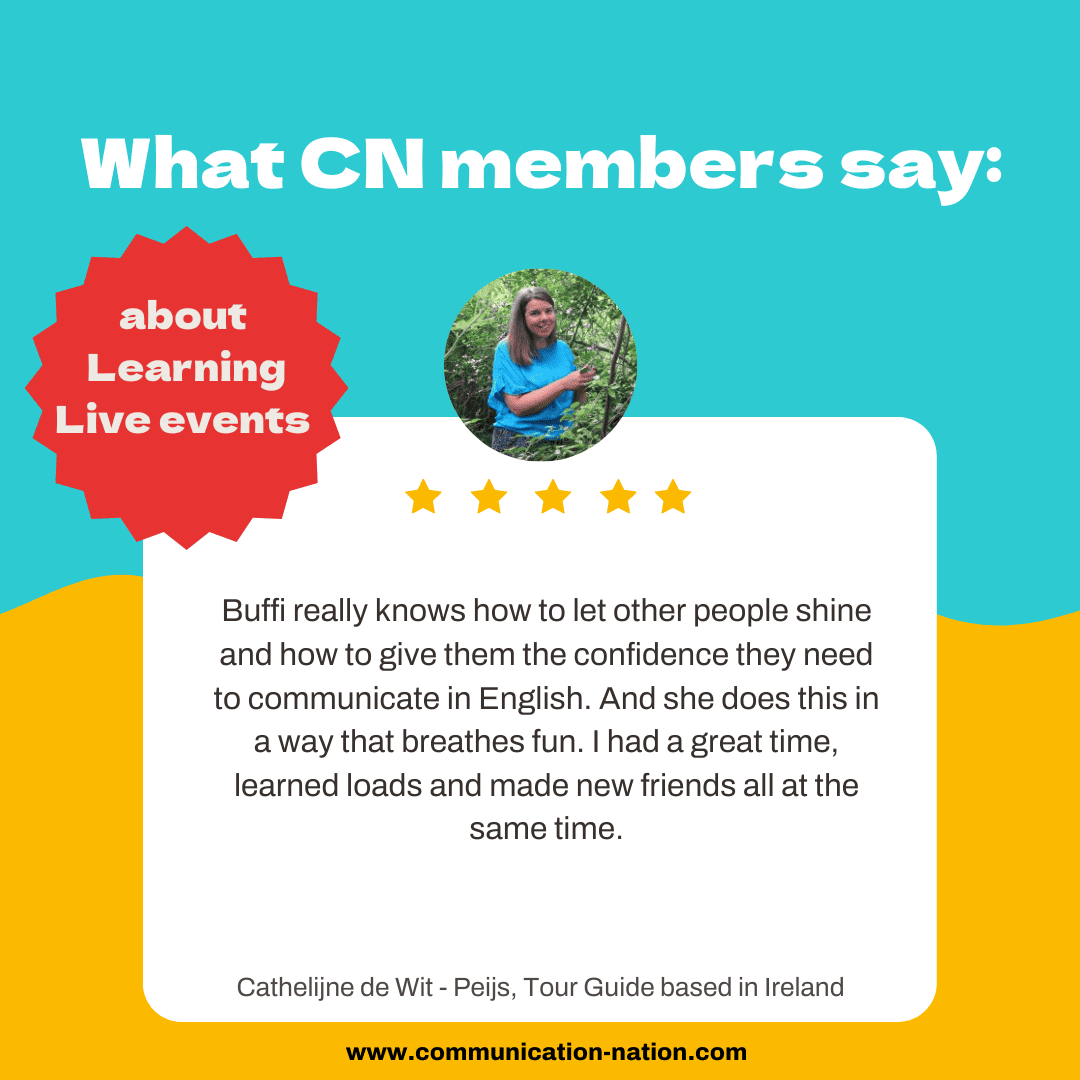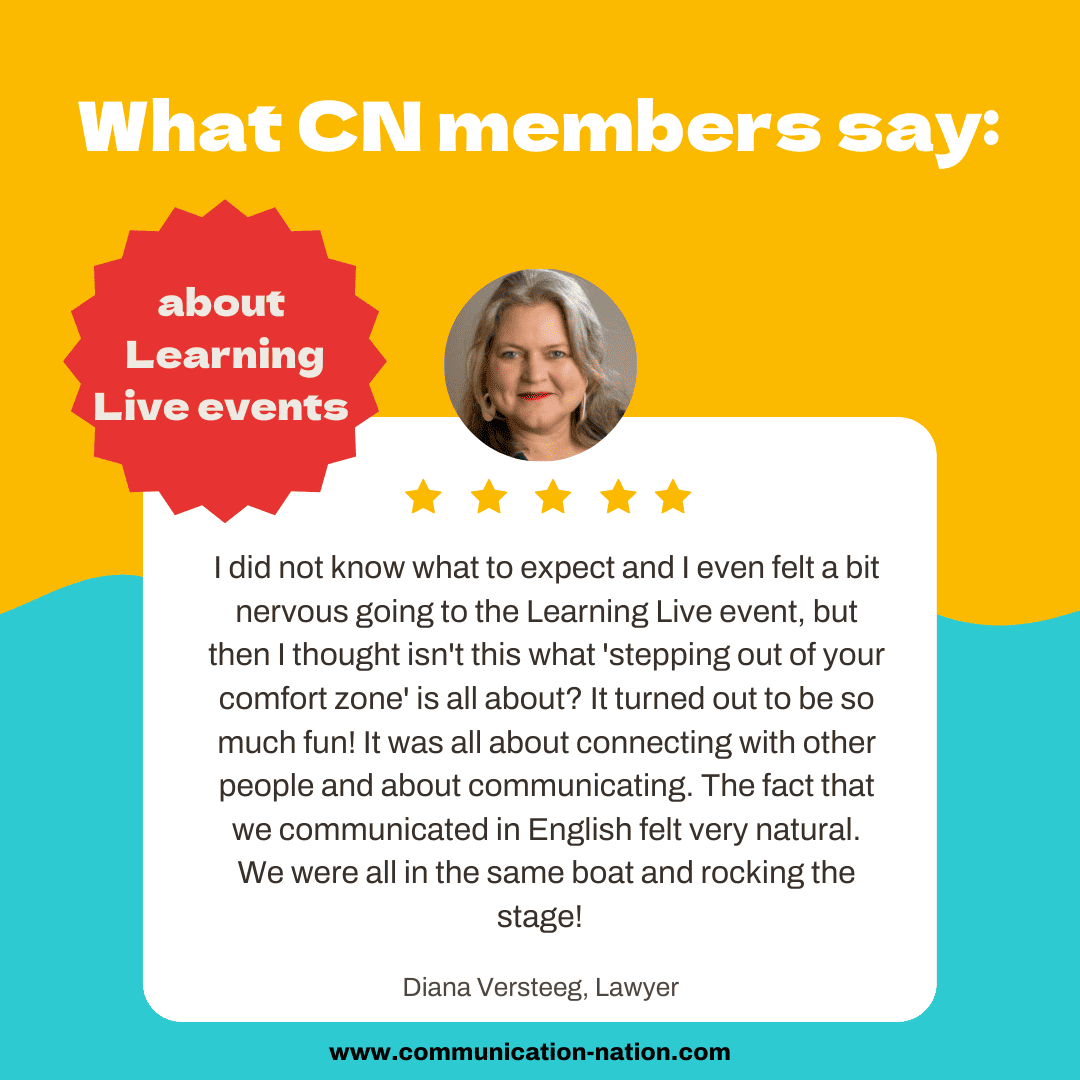 This is what our members say about what they have achieved after just 6 weeks of learning with Communication Nation: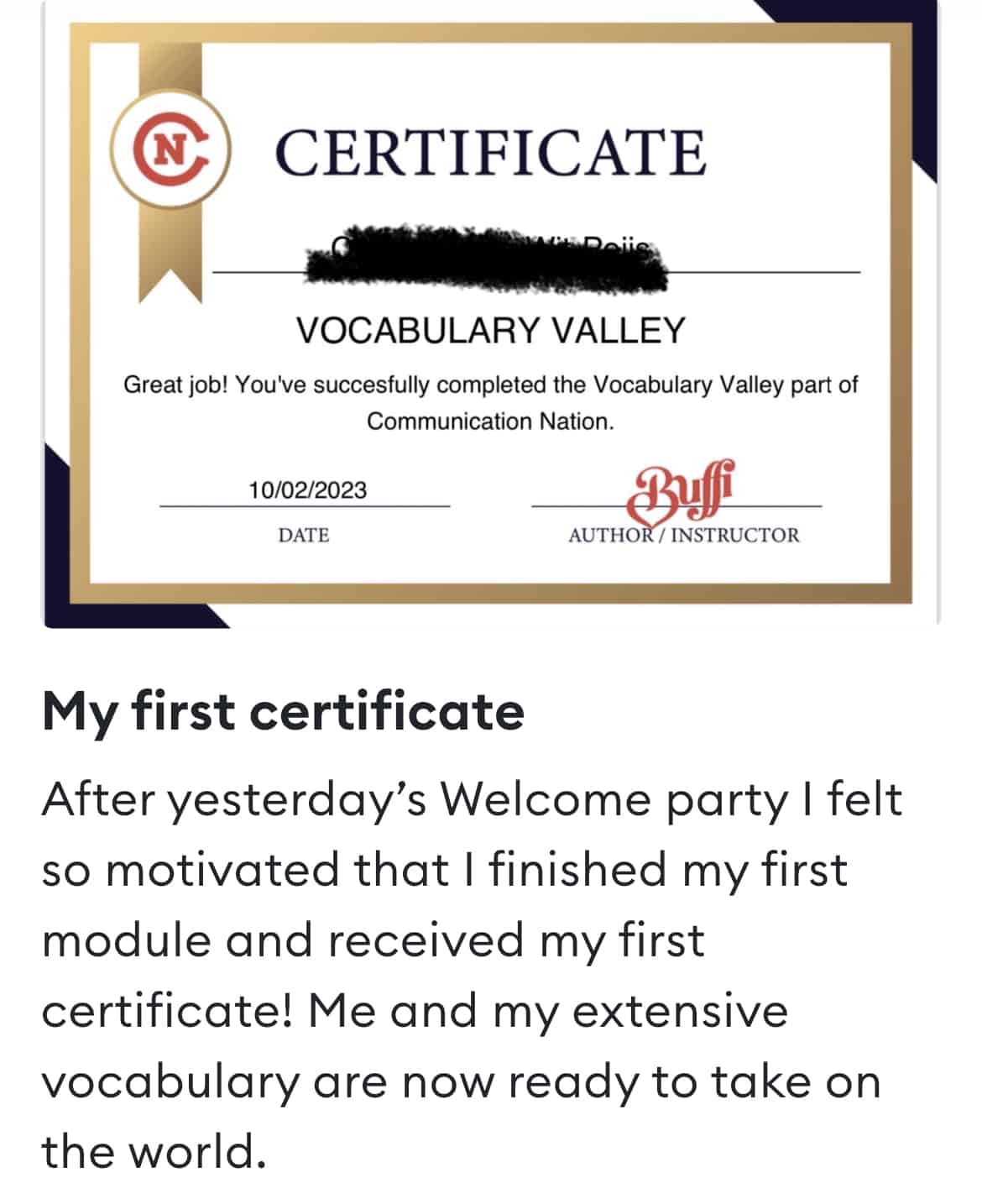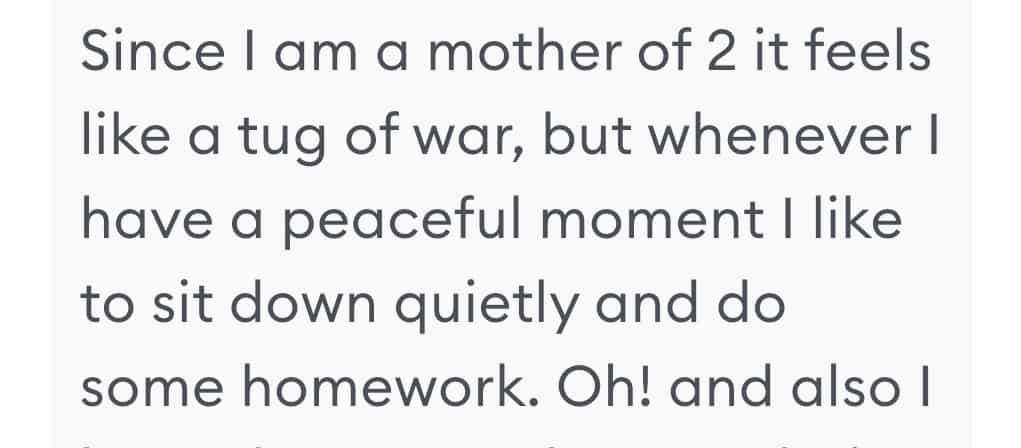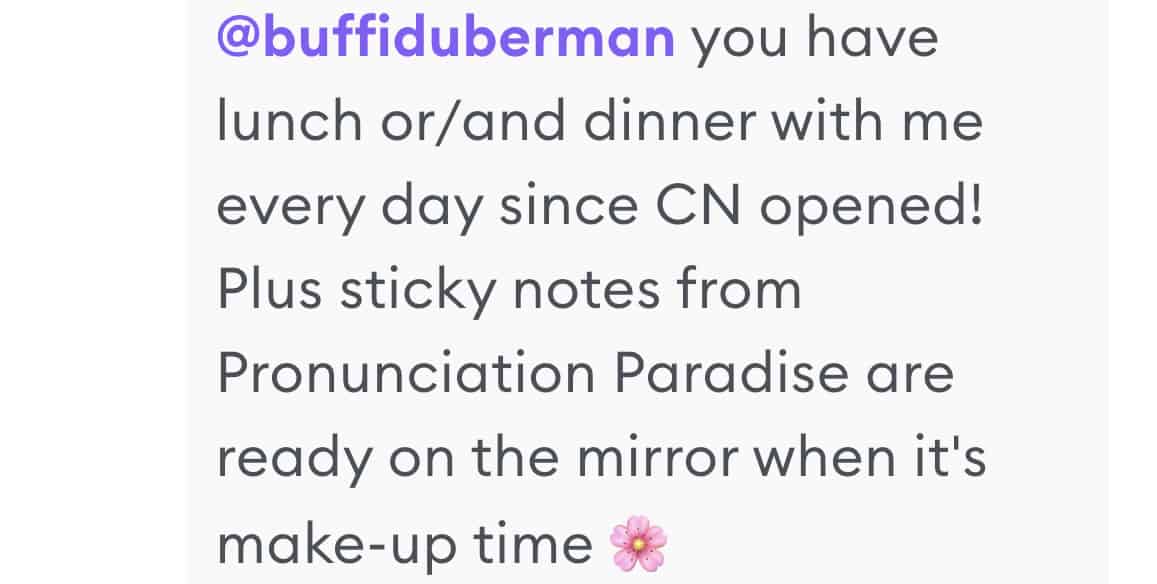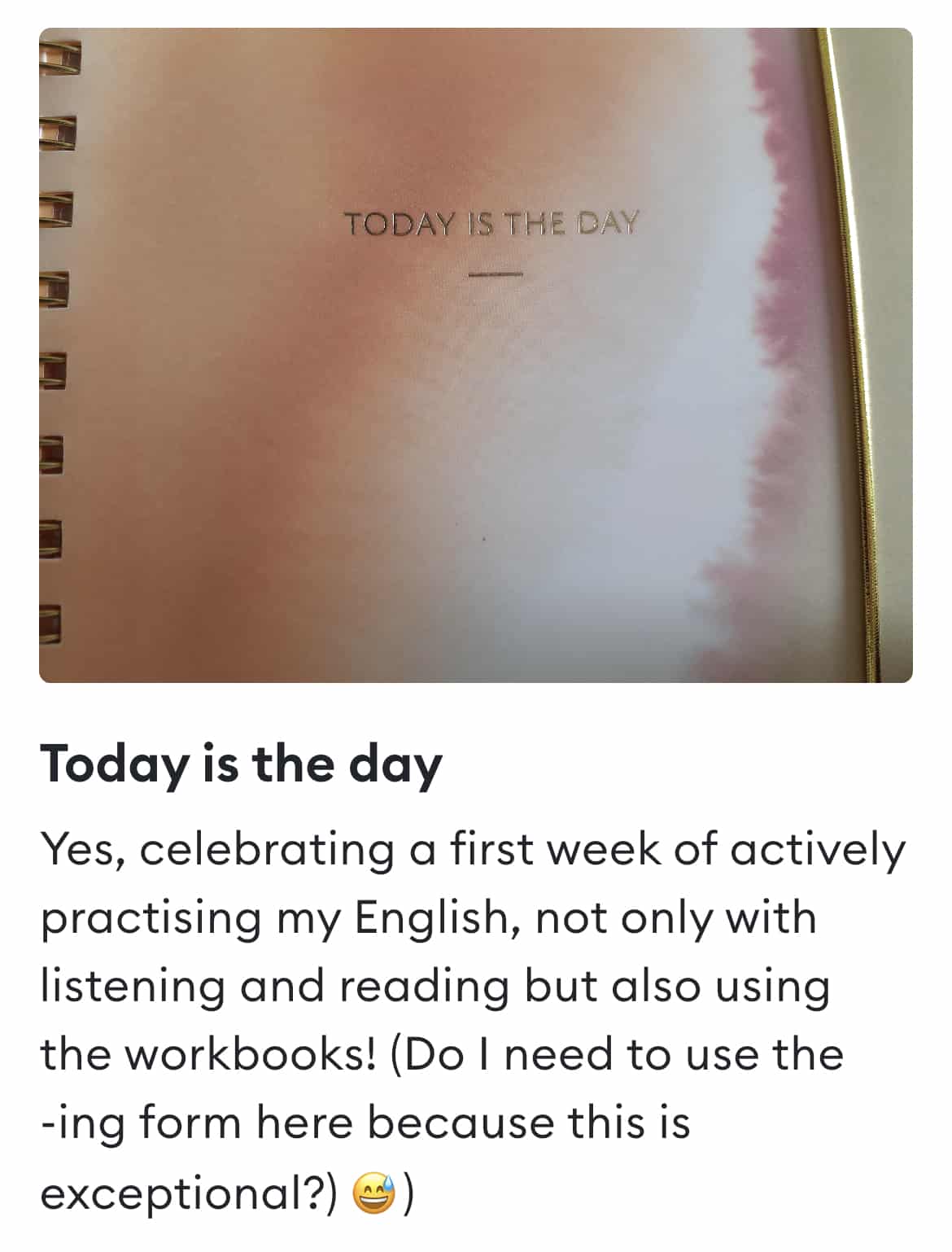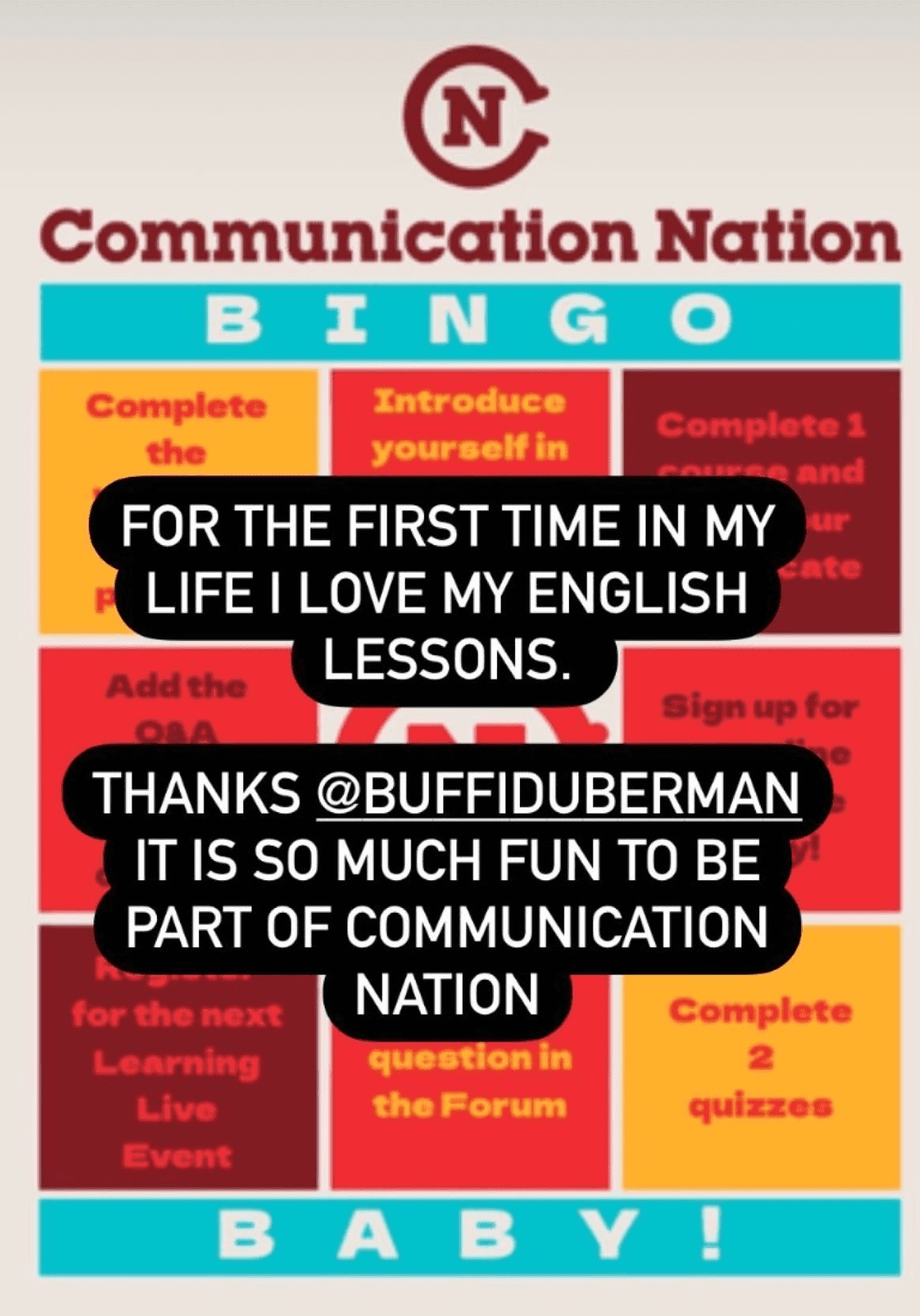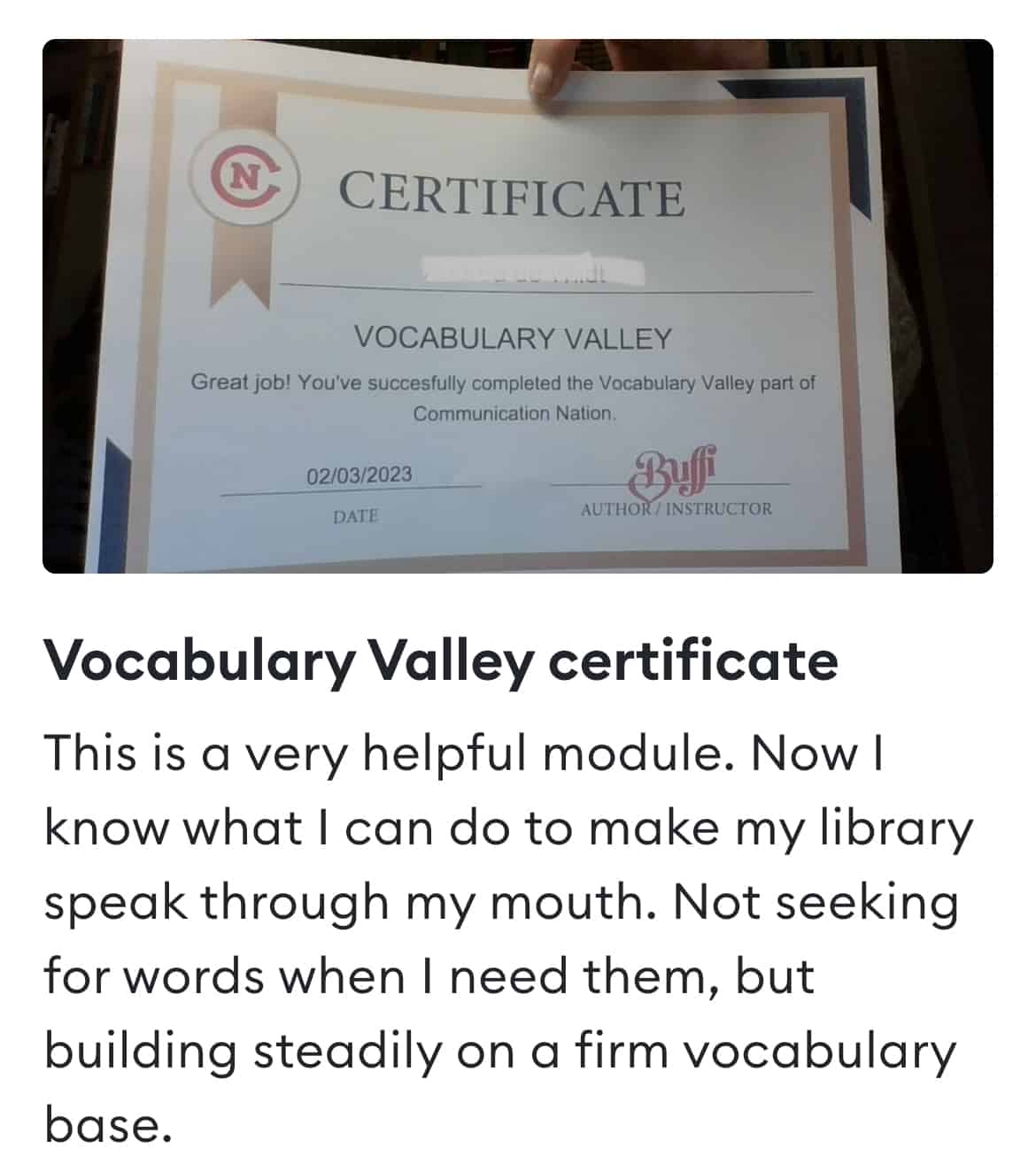 I have 8 complete courses waiting for you. After our kickoff in the Welcome Home course, you can meet me in the Business Brownstone to level up in your next meeting, or join me in the Vocabulary Valley to help you expand your Word Wardrobe, or let's have some coffee in the Mindset Mansion to really work on kicking that impostor syndrome to the curb. (You can also hang out in the Presentation Playground, dig deep in the Writing Well, feel fabulous in my Pronunciation Paradise, or build a strong foundation in my Grammar Gateway!)
But wait – there's more!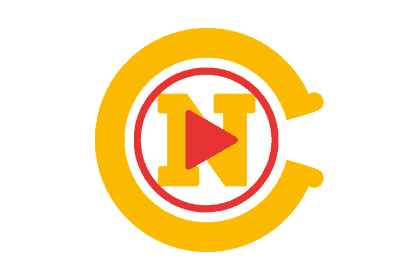 8 full courses featuring over 160 video lessons you can access immediately, and new lessons are released every month. Every lesson is short and sweet, covering 1 concrete learning goal, addressing a common mistake, or sharing 1 valuable coaching tip. Every video is subtitled in English and filmed in a professional TV studio with cool animation and special effects!
Every  lesson has its own interactive workbook with exercises and reflection questions, so you can immediately apply the theory and grow, both professionally and personally. Learning is never boring in our Nation!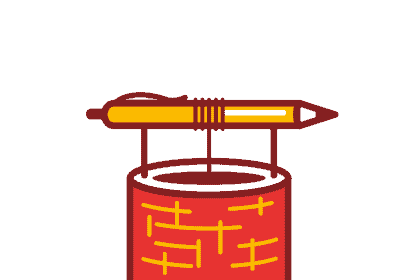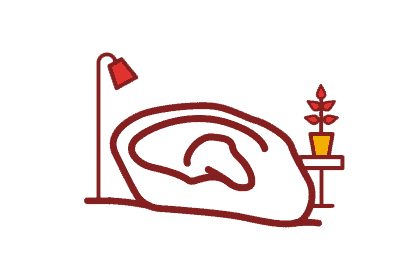 320 transcripts and audio files so you can read and listen to everything you are learning. You learn in the way that works for you. There is no wrong way to learn in Communication Nation, unlike how you were probably taught at school.
50  repeatable quizzes to activate your knowledge- watch the video lesson, then activate what you just learned in the workbook, and then take the next-level test – try the quiz and see how you did! Challenge yourself and the other members while staying active and having fun! You can do the quizzes as often as you like, and watch your score go up every time!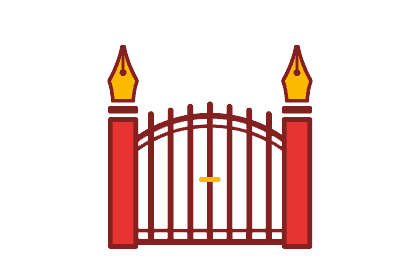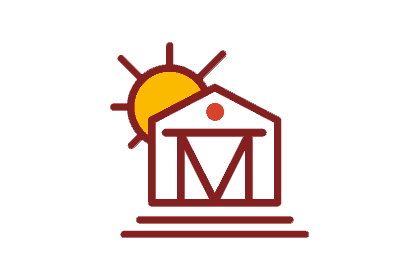 Live Question Sessions every month with yours truly. Want to know more about something you learned? Confused about the grammar? Need a golden mindset tip? I'll help you in these live monthly Q&A sessions and they will be recorded in case you can't make it live. All members are welcome, and it's a real sense of community.
A team of professional, fun, dedicated English coaches who are here to help you every day in the Forum. You can check in and ask questions, ask for quick feedback or advice, or share a golden tip of your own! This is how we build the community and grow and glow together!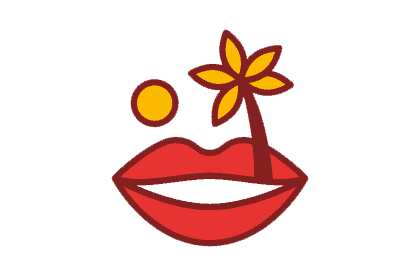 A lively community full of motivated people who, just like you, want to improve their communication skills and have fun while doing so. Connect with like-minded people, share your stories, celebrate your success, and get support in facing those challenges. We are here for each other every step of the way.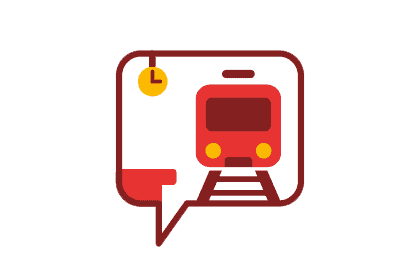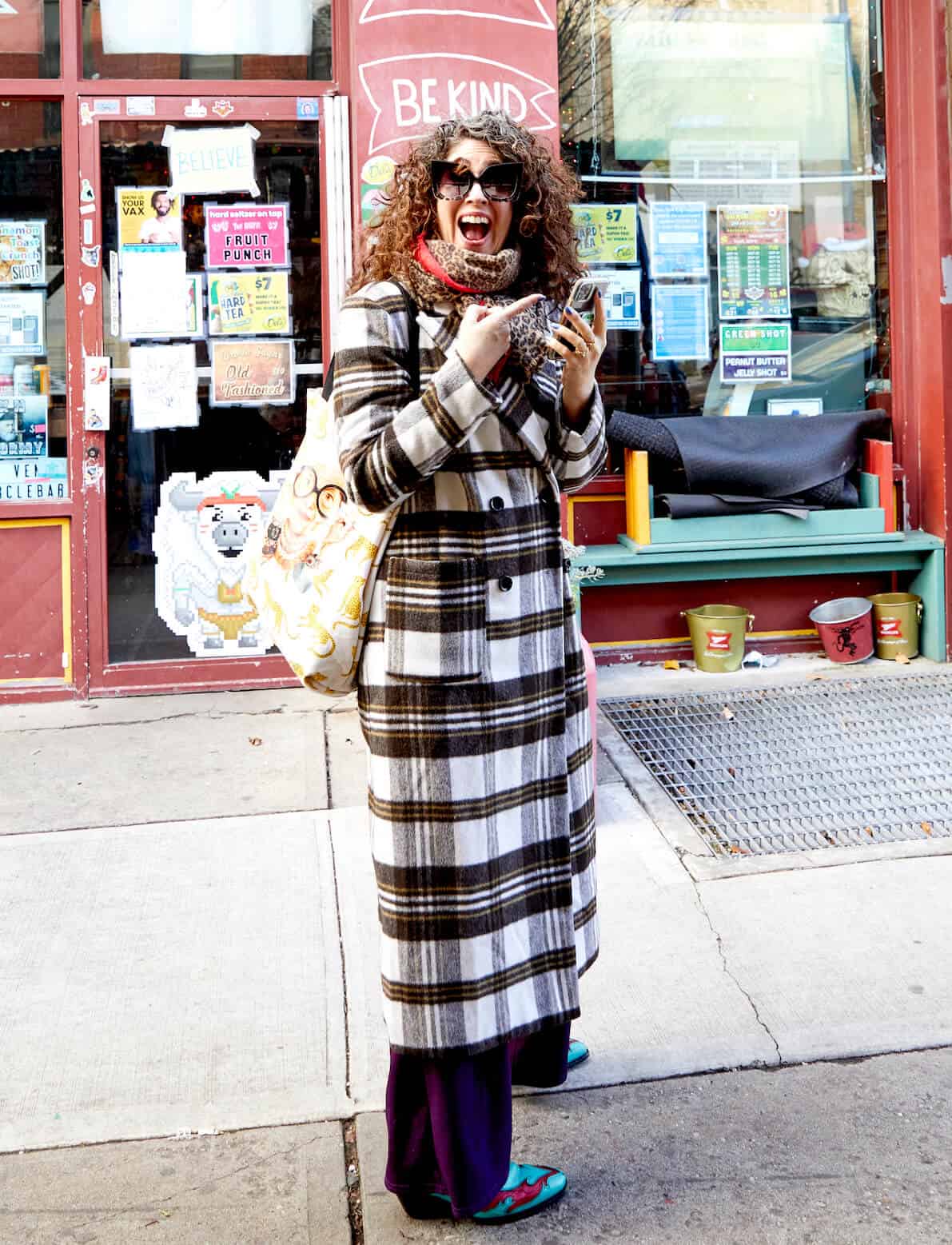 Communication Nation is a confidence catapult.

And guess what? It's also an app.
Yes, put me on the waiting list!
Find out more in my free masterclass on October 3!
Communication Nation is for you if you...
Communication Nation is not for you if you...
Communication Nation is the world's first hybrid English communication membership program. It's a combination of courses, workbooks, exclusive live events, quizzes, and online coaching, with fabulous members, creating an active, motivated community. It's your new home for everything you need to improve your English skills, shift your mindset, interact with others (including native speakers!), and get feedback and coaching.
We have 7 complete courses waiting for you on the inside! They are all made up of different video lessons (over 100!), and are built up in a logical way, from start to finish, or from less challenging to more challenging, depending on the course. 
Every lesson has its own transcript, workbook, and audio file, so you can not only activate what you are learning, but read the lessons as text, and listen to the lessons as podcasts if you're on the go! The workbooks are full of exercises (with answers) to help you immediately activate what you are learning, but every workbook has reflection questions to help you learn more about yourself as a person. 
Grammar Gateway is all about understanding the WHY behind the WHAT and helping you FINALLY understand grammar so that you can build a good foundation and eliminate your mistakes. 
Presentation Playground will help you put the 'present' back into your presentations. You'll learn all about how to structure your talk, honor your audience, and present for maximum impact. 
Vocabulary Valley will stop you from using the same words over and over again. Here at Communication Nation, we love variety! I'll also help you develop a fantastic Word Wardrobe with plenty of choices and show you how to triple your vocabulary! 
Writing Well – this is the place to be to get your writing skills from just 'functional' to really professional. You'll find lots of useful phrases and templates, and soon you'll be able to press the 'send' button with confidence! 
Pronunciation Paradise – this is where your mouth goes on vacation and comes back with new confidence, speaking with more confidence and sounding more natural in English. Ready to rock those tongue twisters, mute that D, and buzz that voiced TH? I got you! 
Business Brownstone – ready to negotiate, network, or chair meetings like a boss? Yes you are! This is your seat at the boardroom table, full of useful phrases, templates, and more! 
Mindset Mansion – this is where we work on the mindset of confidence and clarity to help you truly feel confident and relaxed when it comes to communication. Remember, the way you talk to the world starts with how you talk to yourself. I've got so many concrete tips waiting for you in the Mansion, and they will help you navigate through life, not just English! 
We also have 30 quizzes to help you test your knowledge on vocabulary and grammar. You see your score at the end and can repeat them anytime. It's a great way to get to the next level and to make sure your progress is maintained! (My mom got 70% on a quiz. Can you beat her score?) 
A lot. You get access to all the courses, video lessons, audio files, transcripts, quizzes, a monthly online Q&A with me, an online welcome party for new members which includes BINGO (oh, yes, bingo, baby!), daily interaction with members and English coaches in the forum, networking opportunities, and the complete Communication Nation app. You can also buy a ticket to our live events, which will be held several times a year. Each event will have a theme to help you activate what you are learning, show what you know, and network with other members (some of whom are native English speakers). They are fun, interactive, and include drinks, snacks, and goodie bags. For members only. What more could you ask for?
The Communication Nation doors are open for a few days only, a few times a year. When you join you have 2 options – you can become a member for 6 months, or for one year. This is because it takes about 180 days  to see true progress and develop new habits while eliminating your 'old' mistakes. An annual membership will always mean you get the lowest price per month and is a more cost-effective option than 2x a 6-month membership.
You can join Communication Nation for only €597 (ex VAT) for 6 months, or €797 (ex VAT) for a full year's membership.
The price you pay when you join is LOCKED IN for the rest of your membership. It will never increase, no matter how many lessons or features we release. The price will increase with every launch.
We offer a 100% money-back guarantee, so you have nothing to lose.
You can pay with iDEAL, Bancontact or credit card. Unfortunately, our payment system for Communication Nation does not support PayPal and Apple Pay as it's a recurring payment.
YES! The price you lock in during the launch will CONTINUE to be your price forever. It will never be increased, even when we launch new lessons, features, and courses!
Yup! If you join and do not like our program, please let us know within 14 days of signing up. We will give you 100% of your money back, no questions asked. We want CN to be for those who are truly motivated and love the program. If it's not for you, we will end your membership without any issue if you let us know within two weeks of registering.
 Yes. We will send you a mail ahead of time to let you know that your membership will soon be renewed, and offer you the opportunity to end your membership if you would like to move out of our fine Nation.
I'm afraid not. That price is locked in for you as long as you are a member. However, if you decide to end your membership and then become a member later, you will pay the new price, which will be higher.
If your boss is smart, they will realize that the better you communicate, the better it is for the WHOLE company! Communication Nation is definitely worth using your training budget for, as everything you need to level up in all your (Business) English skills is right there in 1 place!
You will be billed once every 6 months if you have a 6 month membership, and once a year if you have an annual membership. We will send you an email a few weeks before your membership renews as a reminder that it's coming up.
We have so much on the inside for our members and want everyone to feel welcome and truly valued. That's why the doors are open for just a few days each time, so that we can focus on all of our new members and support them on their learning journey. After a few months, we are ready to welcome new members again, but only for a few days.
Research has shown that it takes 180 days to learn a new habit, while also 'unlearning' old habits. Communication Nation will help you eliminate many of your old habits when it comes to communicating, and our Mindset Mansion lessons will help you create a mindset of clarity and confidence. These things take time.
Yes! This is actually an excellent time to work on your English communication skills, because when you need them in the future, they will be practised, polished, and ready to rock! Remember, careers, opportunities, and goals change all the time- you might not be using English much now, but a new opportunity could be right around the corner – you want to be ready for that when it happens!
We sure do! This can also be combined with live or online training days. We offer corporate discounts starting at just 10 accounts – click HERE to let us know, and we will get back to you with a fabulous offer!
Yes! New courses, lessons, and features will be coming throughout the year, and every year. These will be announced in the Nation News part of the app and website.
Communication Nation is not for absolute beginners, as everything is in English without any other support language. However, the lessons are built up in a logical way, they are all subtitled in English, and you can watch the videos, listen to the audio files, read the transcripts, and do the workbooks and quizzes, so you can learn at your own pace, and in your own way. That's the beauty of Communication Nation – you learn in the way that works for you. 
Yes! 20% of my clients are native speakers and they have found such incredible value and concrete results through my coaching. If you'd like to discover new storytelling angles, ways to structure your presentation for maximum impact, and find out more about the mindset of confidence and clarity, I welcome you to join! You can always cancel within 1 week of joining and get 100% of your investment back, no questions asked.
Hella no. This is the place to be, darling. 
OMG I want to be the first!
Put me on the waiting list!
Do you want to know more? Sign up for my free masterclass on October 3!
Put me on the waiting list!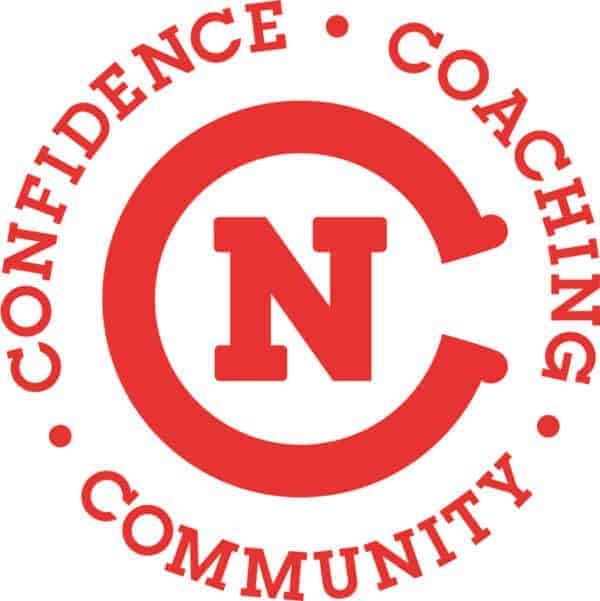 Would you like Communication Nation for your colleagues? This can also be combined with live or online training days. We offer corporate discounts starting at just 10 accounts – click HERE to let us know, and we will get back to you with a fabulous offer!
Any questions? Please contact Karin at assistant@buffiduberman.com.