Rock Your Business English
The coolest way to sharpen up your team's Business English skills!
Develop new corporate communication strategies to write and speak professionally in English.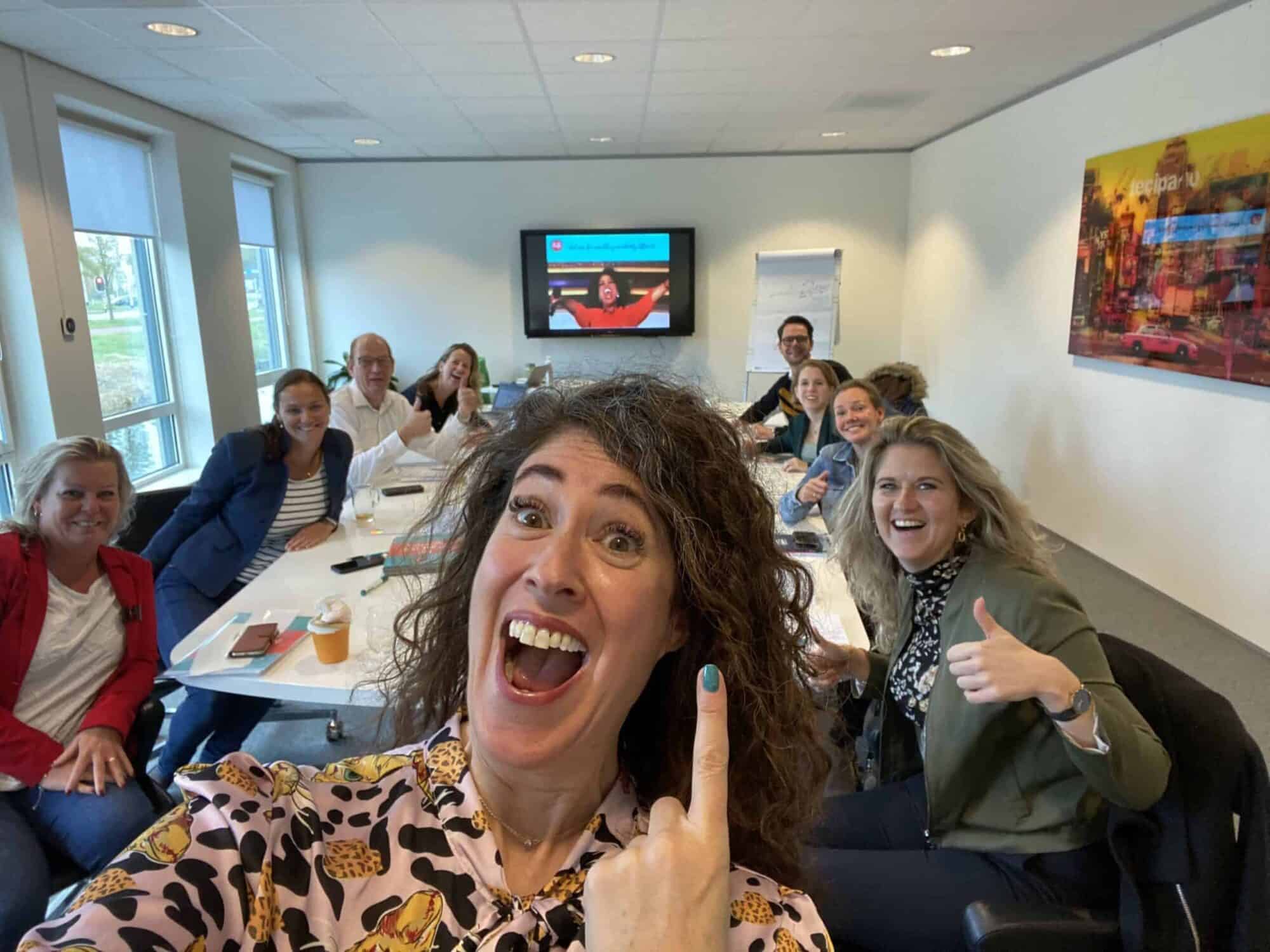 Your team uses English at work and they get by. It's not always easy, and certainly not always fun, but they get the job done. Most of the time.
However, it's not professional enough. They are all great at what they do, but when it comes to doing that all in English, it's a step (or two!) behind. They keep using the same words over and over again and it's boring. And not professional. They are using school English to help them navigate through international business situations and it's not measuring up. They don't reflect the image you want them to have in English, it's always a bit lower and a bit simpler than it should be.
You would love it if your coworkers could speak more professionally and with more 'polished' phrases so that they have a wide variety of English words and phrases to choose from. They understand English quite well, but that library in their head is not getting activated.  Your international network and clients are there to work with you, not to give you feedback about your English, so you're not even sure if you're using the right words and structures anymore, as no one has told you if it's correct or not. No one gives you clear and honest feedback about HOW you are communicating, so you are working in a vacuum and simply hoping for the best.
You think that sometimes your colleagues might be making mistakes (and you're probably making them yourself!) but you're not sure how to correct them, or know other alternatives to say things in a more professional way.  It would be an added bonus if your coworkers could also work better as a team in English and create a better sense of group communication to increase the team spirit and have fun!
How great would it be if your team could walk into a meeting or a negotiation session and be totally prepared, not just about what to say, but how (and WHY!) to say it?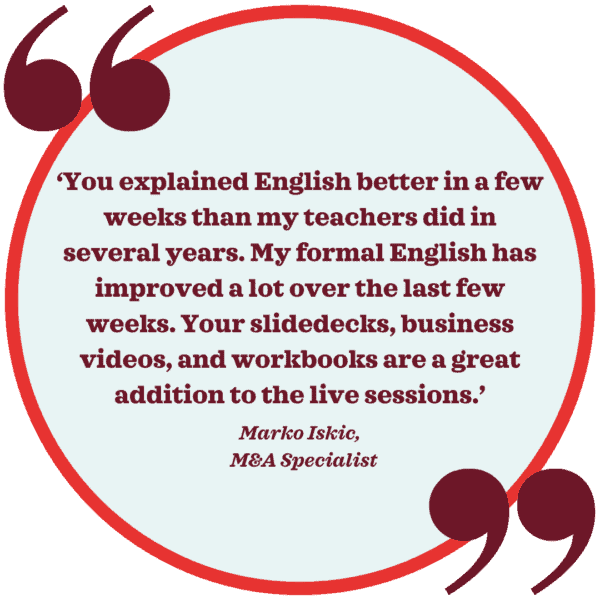 Here we focus on learning, activating, and getting feedback on basic and advanced English grammar structures, and (finally!) eliminating your bad habits in this area. We will use my own books and materials which really make grammar come alive. This will get you motivated to build a strong and solid foundation for both written and spoken English. Discovering the WHY behind the WHAT means the theory will be your new best friend, and after this module you will KNOW that you are speaking and writing correctly, instead of having to doubt yourself all the time. Then we start applying this to your business communication, and I'll show you how changing 1 grammar tense can totally reverse your message, make you unemployed, insult your colleagues (or your clients!) or make you a murderer.
Ok, so you can get the job done in English. But did you do it as well as you could have? Did you come across as a bit too blunt, direct, or aggressive? Does your English really reflect the level of sophistication that you have with your products or services? Is it top notch, just like you pride yourself on hiring the best team and providing the best services? This is where we go from 'functional' to 'professional'- how do you strike the right tone at the right time and sound more subtle, professional and formal when you need to be? How do you express your opinion, give feedback, and present bad news without sounding so direct? In most languages, there is a built in formal and informal way of saying 'you', and the grammar follows suit. But guess what? We don't have that in English, so we express formality in other ways. I'll show you how!
Your words shape your world. But do you have enough of them? If you are talking about your services or your products, and you hesitate because you can't find the right word at the right time, or if you're unsure if you are using the right word, guess what happens? People will interpret this as you doubting your product or your services. However, you're just doubting your English. You know your business well. No doubt about it! Let's take that English doubt out of the equation so that you can just focus on business. I will not only show you how to triple your vocabulary, but how to make your English communication sparkle and shine with new expressions, idioms, and vocabulary alternatives.
I've been helping people shape and share their stories for 30 years, and I've been a Senior TEDx Speaker Coach for a decade. It's a pleasure to help people create a message with impact and see them make an authentic connection with their audience. Whether it be for a pitch, presentation, meeting, or a network event, my Presentation Template will help you prepare with ease, and deliver like a total pro who owns the stage. We also will work on dealing with nerves, storytelling, Q&A, visuals, and body language in this module. I can't wait to show you how to build a bridge to your audience, with ease and confidence!
What's the difference between a good and a great mail? How do you strike the right tone when giving bad news? How can you package formality and still sound professional when apologizing or expressing urgency? And what do we do with confusing words, that all pass a spell check, but are mixed up all the time? We tackle all of this with a smile, useful phrases, and writing templates in Write It Right! I will also be checking your mails for style, tone, and accuracy during the program.
This is where we get down and dirty on your pronunciation, both in a group and (if time/size allows) individually. I have 30 years of experience on accent reduction and I love showing people how they can self-correct easily and quickly! Let's get your team to sound more confident, natural, and accurate in English with my tailor-made worksheets and fun videos! We will also focus on the most difficult words to say in English, Tongue Twisters, and more! The materials are yours to keep so that you can practice on your own at any time.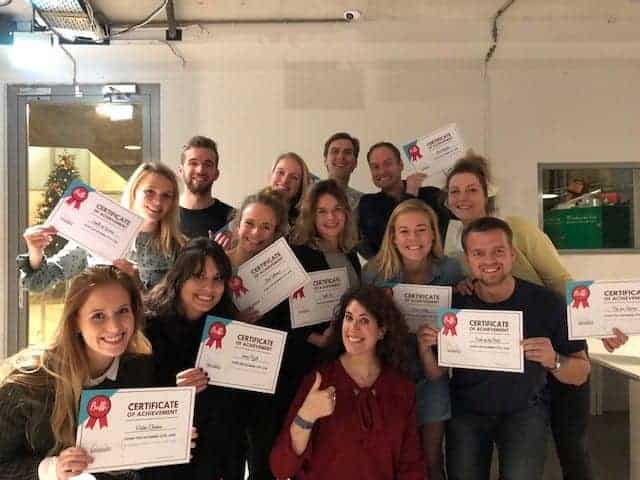 Live days are possible upon request. Look at those happy RYBE graduates!
Yes! My team needs to rock their business English!
8 weeks in total. There are 4 masterclasses of 2 hours each– usually 90 minutes of masterclass and then 30 minutes of Q&A.
Online. (Live, on-site training days are available upon request.)
This depends on your training goals and budget.
Every participant will get a personal intake to determine their level, needs, and training goals.
I offer personal mentorship, coaching, and individual feedback sessions every week throughout the course in our private Slack channel.
Every participant receives tailor-made worksheets, interactive workbooks, the recording of every masterclass, and all the coaching notes, plus 6 months access to Communication Nation.
A complete Rock Your Business English! training program starts at €1495 per participant. This fee includes the personal intake, the masterclasses, 15 workbooks, individual feedback, consultancy, and mentorship, all coaching materials, and 6 months access to Communication Nation.
Group discounts are possible, depending on group size.
"Let's improve your professional communication in English!"
'This course really opened my eyes. It's truly outstanding. I got so many new words and phrases to use to help me sound and feel more professional. Not only is it truly interactive because the group is 6 people, it's full of tips, examples, and lots of fun!'
'I would definitely recommend this program – it's mindblowing! To have a reality check on how English is different from Dutch and get a better understanding on how you might come across a native speaking person.'
'Buffi is such a sharp coach with an energy that's amazing plus a great sense of humor. She focusses on the smallest details in professional communication, which makes such a difference!'
RYBE participants give this program a 8,8!
Not sure is this is for you?
If you answered 'YES' to any of these, then it's time to Rock Your Business English!
This course is for you if:
This course is not for you if:
Yes! We need to Rock Our Business English!
This course is not for absolute beginners, as all of the materials are in English with no other support language. It's for lower intermediate to advanced.
Based on the hundreds of reactions I have gotten from previous participants, I can truly say that my unique 4-step training method of awareness, absorption, activation, and feedback is extremely effective. Every participant leaves the program with clear insights on their strengths and weaknesses, a motivated mindset, and a clear approach on how they can continue on their own with Communication Nation and my workbooks.
I keep the groups small (6 is an ideal size) so that everyone gets a chance to ask questions and get clear and honest feedback during our online sessions, and I give every participant weekly feedback on their assignments in our private Slack channel throughout the program.
Yes, 50% of the course fee can be paid before the program starts, and 50% within 2 weeks of the last training day of the program.
Yes. The cringe factor is currently 6.5. Sorry not sorry.
Yup! This can be either at your office or online. Or on Bali. Why not?
Absolutely! This program brings people together in a new and exciting way, as they are all working on the same goal, in the same language, sharing the same doubts, goals, and triumphs. Laughing and learning together is so much fun and the greatest connector!
No worries – that's why I send everyone the recording after the masterclass, so that they won't miss a thing!
You're screwed, babe. Espresso or nada.