Dear,
When I was sitting under a tree in Bali, sketching out ideas about how to connect the world via English communication confidence, I had no idea that 3 years later I'd be getting messages like these:

Oscar's kind message in the Communication Nation forum brought me to tears.
This is exactly what I was hoping for. And then this message from Curacao: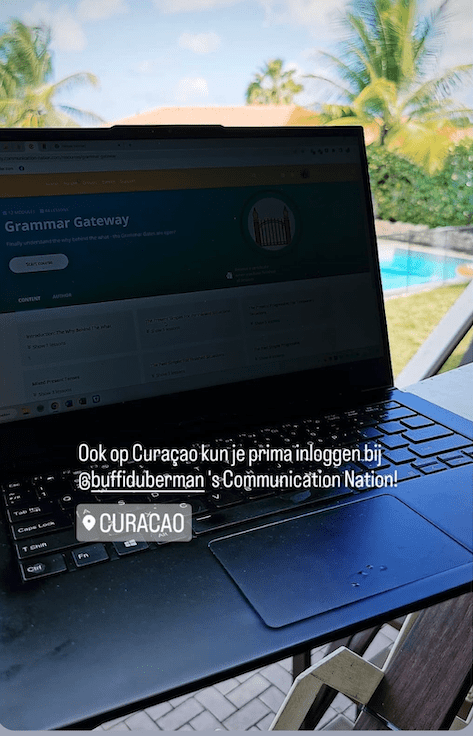 And this one from the Netherlands: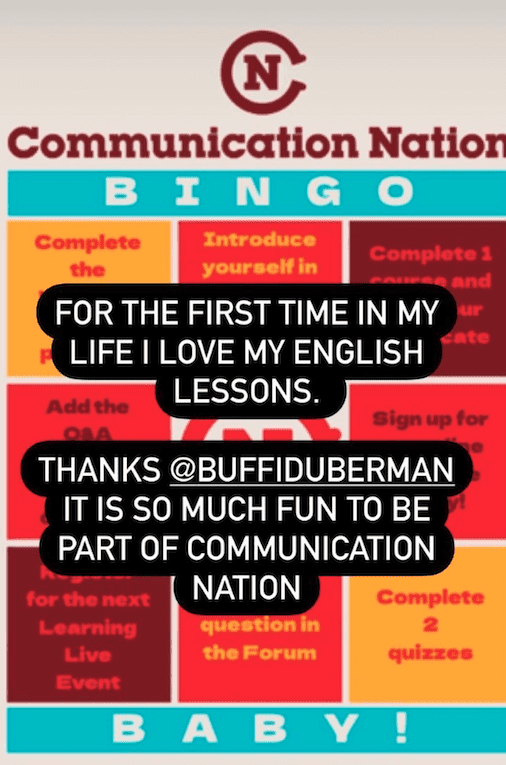 We opened the Communication Nation doors on Feb 1, for 1 week only, and people from 12 countries joined.
What makes Communication Nation so special?
Lots of reasons. Here's a top 10:
There are over 130 video lessons already waiting for you, all filmed in a professional TV studio (hello green screen and special effects!). We have 7 courses on grammar, vocabulary, writing, presentations, pronunciation, business skills, and creating a mindset of confidence. We release new material every 2 weeks, always with a clear theme and learning goal.
You learn in the way that works for you – by doing quizzes, listening to podcasts, watching the videos, asking questions in the forum, writing in one of the 130 workbooks, or trying one of the 50 quizzes. There is NO wrong way to learn with me.
We have a lively community full of members from 12 countries, who share the same goal – improving their English communication skills while having fun! We even have our own Achievement Avenue where you can share your certificates after you've completed a milestone. It's a very happy place full of inspiration and motivation.
I am in the forum every day to answer your questions and support you in your learning journey. You are never alone (unless you want to be!).
We have 6 Learning Live events a year, designed especially for our CN members, where you can activate what you are learning, network with amazing people, and practice with native speakers.
You can see real progress in just a few minutes a day, and the CN app is synced to the website so you can learn on the go, at any time.
The doors are open only 3 times a year so I can focus on welcoming all the new members and make sure they get the most fabulous Buffi-style onboarding experience, which includes our now-famous Bingo, Baby! game and a dynamite Welcome Party.
Every month I offer a free, online group coaching session to go deeper into your questions and introduce new theories. These are recorded and you can watch the recording at any time if you can't make it live.
We offer corporate discounts and tailor-made training programs for people who want to use CN with their colleagues at work.
CN is not just about English. 'I joined Communication Nation to improve my English. But what I'm learning goes far beyond the language. I finally understand grammar thanks to your animated timelines, I have applied the presentation strategies to my Dutch pitches, and I am no longer the perfectionist I once was. All that in just 6 weeks! How? All thanks to Communication Nation! ' – Caroline
How does that sound? Want some of what she's having? 😉
All of the goodness on the inside is worth well over 3,000 euros.
And we both know that confidence is priceless.
Mark your calendars because…..
The CN doors open on May 10 for 5 days only.
If you join the waiting list, you can get €170 euros off and grab the Early Bird discount for the first 48 hours when the doors are open.
This means you can get a FULL YEAR'S ACCESS for just €229 instead of €399.
I can't wait to welcome you on the most innovative, exciting, and effective learning journey you'll ever have in English.
Join the waiting list today and we will send you the link for the Early Bird discount right when the doors are open on May 10!
See you on the inside!
Love,
Buffi