DO NORMAL!

But what is that, actually?
Hello from Brabant, where I live.
Hello from Brabant, where we now have Carnaval.

When I first came to the Netherlands, I had no idea that Carnaval was celebrated here. I heard about it after a few months of living here, and I got very excited – 'I can't wait to see all those gorgeous people parading around in their feathers, beads, and sequin bikinis!'

To me, Carnaval was a combination of the Brazilian Carnival and Mardi Gras.
Party on!

Then my dreams were bluntly shattered.
My friends set the record straight.

'We have it in the winter. We dress up like frogs.'

Oh.
Ok.

I tried.
I really tried.
For years.
I got the costumes, went to all the bars, did the polonaise.
I put the glitter on my children's faces and spray painted their hair.
I tried.
For years.

But then I realized it's not for me.
I don't like being in a crowded bar. Never have, never will.
I don't like drunken men grabbing my tits.
Not even when they are dressed up like Pocohontas.
(True story.)

I'm very, very happy for those who choose to celebrate, and I have learned about the historical and cultural significance of this holiday. I truly find joy in seeing others getting excited for this period.
This is my husband and kids.
So happy for them! I love watching people have fun but often I have no desire to join the crowd.
I took my son to the Carnaval store, being the Good Mama that I am.

There I was greeted by this lovely man with a chicken on his head.
He was telling me that this chicken lays 2 golden eggs a day. He was glowing with delight.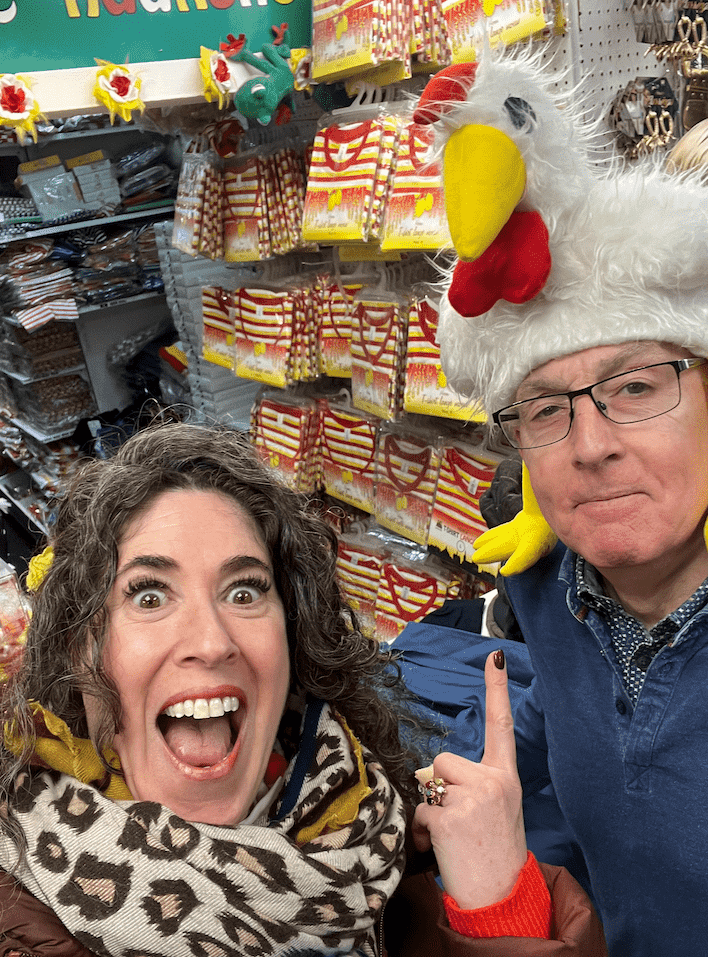 I loved it. I adored talking to him. He was rocking that chicken. And he was so proud and excited about Carnaval.
But then…is he doing normal?
I ask myself a lot about this 'do normal' idea that the Dutch embrace so beautifully. What is 'normal' in this situation?
Am I not normal because I choose not to put a chicken on my head during this week?
I'm not sure.

I love going to the Carnaval store, though.
Because that's also where I buy my clothes.
My normal clothes, that I wear to work.
I have bought fabulous glitter boots, sunglasses, bags, jackets, and this fabulous belt.
I wear them all year long.