A reminder for you on this happy Monday.
COMPARISON IS THE THIEF OF JOY.
Life, to me, is like going to the gym.
You can either compare yourself to the person who used that machine before you, and say to yourself, as you lower the weight to a level you are comfortable with, 'Wow, I could never get that strong!',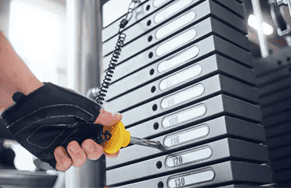 or…You can focus on your own progress and marvel at what you have achieved so far. Here's my gym progress sheet. I started last year, and I try to use these machines 2 or 3 times a week. I'm 55 in August. I love the feeling I get AFTER working out haha! And this is what I focus on. These small steps are steps in the right direction.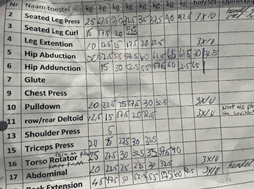 Communication is the same game.
You can either compare yourself to others who (you feel) speak or write really really well, and think 'Oh, I could never do that! My English is horrible!' or you could take that fear and doubt and comparison and put all that energy into ACTION, by taking small, sustainable steps that will help you reach your goal.
That's why my Great in 8 program is 8 weeks long. It takes time not only to learn new things, but to unlearn old habits, and transform your mindset. It's the only coaching program I have that combines your message with your mindset.
If you'd like to work with a coach with over 30 years of experience, who has helped over 10,000 clients transform how they communicate in English (so that they can just focus on doing what they love instead of worrying how they sound…), I welcome you to join me in a free intake call to see if it's a good match.
Imagine walking into the boardroom and knowing it will never be a bored room. Think of how magnetic your website and mails could be with all the new vocabulary you'll be learning. Suppose you discovered the joy of presenting and you (and your audience!) didn't want it to end.
This is what we do. Great in 8 is the last program I'll be doing this year, and I don't think I'll be doing it again due to global projects in 2024. It's 8 weeks of group and personal coaching, 2 live days, 6 months access to Communication Nation and my Great in 8 Educational Database, and so much more.
We start in September, and I have just a couple of spots left!
Are you ready to stop the comparison and start true progress? I am if you are!
Click HERE to grab your free intake call!
Love,
Buffi