What will you do when you get the call?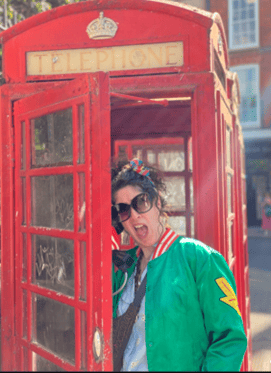 You get that call asking you….
to give an interview
to speak at an event
to be on a podcast…..
in English.
What do you do?
Do you EMBRACE the chance to share your message with the world?
Or do you say no, because ….
you're not sure what to say.
you don't know if you sound smart enough.
you have no idea what people will think of you.
Every time you say NO to an opportunity like this, you are shrinking your world.
Denying people the opportunity to learn from you.
To hear your expertise.
To be motivated and inspired by your story.
What a shame!
Let's start saying YES.
One little YES.
Baby steps.
In a small, supportive, safe environment.
Hosted by 2 experts who LOVE coaching people through confidence.
Let's create a fun, dynamic afternoon full of laughter, surprises, and zero judgment.
'I had no time to get nervous!'
'I forgot that this was about learning English, I was so busy laughing and speaking, I nearly forgot!'
'Now I trust myself in English for the first time!'
This is what participants said in our last Learning Live workshop.
I'd love to have you experience the same!
Join me on November 23rd and start expanding your world.
By trusting yourself enough to take one small step in English.
Love,
Buffi 'Baby Steps' Duberman